Unraveling the functional divergence of membrane-bound pyrophosphatases
Luoto, Heidi (2015-05-08)
---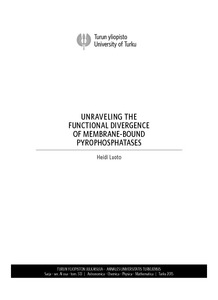 Turun yliopisto Annales Universitatis Turkuensis A I 513
08.05.2015
Julkaisun pysyvä osoite on:
http://urn.fi/URN:ISBN:978-951-29-6094-1
Kuvaus
Siirretty Doriasta
Tiivistelmä
Inorganic pyrophosphatases (PPases) are enzymes that hydrolyze pyrophosphate (PPi)which is produced as a byproduct in many important growth related processes e.g. in the biosynthesis of DNA, proteins and lipids. PPases can be either soluble or membranebound. Membrane-bound PPases (mPPases) are ion transporters that couple the energy released during PPi hydrolysis to Na+ or H+ transport.

When I started the project, only three Na+-transporting mPPases were known to exist. In this study, I aimed to confirm if Na+-transport is a common function of mPPases. Furthermore, the amino acid residues responsible for determining the transporter specificity were unknown. I constructed a phylogenetic tree for mPPases and selected the representative bacterial and archaeal mPPases to be investigated. I expressed different prokaryotic mPPases in Escherichia coli, isolated these as inverted membrane vesicles and characterized their functions. In the first project I identified four new Na+-PPases, two K+-dependent H+-PPases and one K+-independent mPPase. The residues determining the transporter specificity were identified by site-directed mutagenesis. I showed that the conserved glutamate residues are important for specificity, though are not the only residues that influence it. This research clarified the ion transport specificities throughout the mPPase phylogenetic tree, and revealed that Na+ transport is a widespread function of mPPases. In addition, it became clear that the transporter specificity can be predicted from the amino acid sequence in combination with a phylogenetic analysis.

In the second project, I identified a novel class of mPPases, which is capable of transporting both Na+ and H+ ions and is mainly found in bacteria of the human gastrointestinal tract. The physiological role of these novel enzymes may be to help the bacteria survive in the demanding conditions of the host.

In the third project, I characterized the Chlorobium limicola Na+-PPase and found that this and related mPPases are able to transport H+ ions at subphysiological Na+
concentrations. In addition, the H+-transport activity was shown to be a common function of all studied Na+-PPases at low Na+ concentrations. I observed that mutating gate-lysine to asparagine eliminated the H+ but not the Na+ ion transport function, indicating the important role of the residue in the transport of H+.

In the fourth project, I characterized the unknown and evolutionary divergent mPPase clade of the phylogenetic tree. The enzymes belonging to this clade are able to transport H+ ions and, based on their sequence, were expected to be K+- and Na+-independent. The sequences of membrane-bound PPase are usually highly conserved, but the enzymes belonging to this clade are more divergent and usually contain 100−150 extra amino acid residues compared to other known mPPases. Despite the vast sequence differences, these mPPases have the full set of important residues and, surprisingly, are regulated by Na+ and K+ ions. These enzymes are mainly of bacterial origin.