Language of the Future, Language of the PRC –Representations of Putonghua in South China Morning Post
Kettunen, Annemari (2014-10-20)
---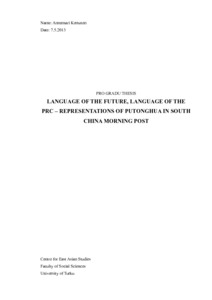 avoin
Turun yliopisto
20.10.2014
Julkaisun pysyvä osoite on:
http://urn.fi/URN:NBN:fi-fe2014102045279
Kuvaus
Siirretty Doriasta
Tiivistelmä
As the national language of the PRC, the world's growing economic power and the sovereign of Hong Kong, Putonghua is a language with multiple facets of relevance for the current Special Administrative Region. This paper seeks to explore and explain different representations of Putonghua in Hong Kong's leading English-language newspaper South China Morning Post in articles published between January 2012 and February 2013. The representations are studied in the context of the different discourses in which they appear, some of which feature language(s) as a central theme and some more marginally.

An overview is first presented of the scholarly research on the most important developments in Hong Kong's complex language scene from the beginnings of the colony until present day, with the aim of detecting developments and attitudes with potential relevance or parallels to the context of Putonghua today. The paper then reflects on the media and its role in producing and perpetuating discourses in the society, before turning to more practical considerations on Hong Kong's English and Chinese language media and the role of South China Morning Post in it. The methods used in analysing the discourses are those of discourse analysis, with textual analysis as its starting point, in which close attention is paid to linguistic forms as the concrete representations of meanings in a text. Particularly the immediate contexts of the appearances of the word "Putonghua" in the articles were studied carefully to detect vocabulary, grammar and semantical choices as signs of different discourses, potentially also revealing fundamental underlying assumptions and other "hidden meanings" in the text.

Some of the most distinctive discourses in which different representations of Putonghua appeared were the Instrumental value for the individual (in which Putonghua was represented as a form of social capital); Othering of the mainlanders (in which Putonghua served as a concrete marker of distinction); Belonging to China (Putonghua as a symbol of unity); and Cultural distinctiveness of Hong Kong (Putonghua as a threat to Hong Kong's history and culture, as embodied in Cantonese). Some of these discourses were more prominent than others, and for example the discourse of Belonging to China was relatively rarely enacted in Hongkongers' voices.

In general, the findings were not surprising in the light of the history, but showed a fair degree of consistency with what has been written earlier about the languages and attitudes towards them in Hong Kong. It has often been noted that Putonghua and its relation with Cantonese is a matter linked with the social identity of the colony and its citizens. While it appeared that there were no strict taboos in the representations of Putonghua in the societal context, the possibility of self-censorship cannot be ruled out as a factor toning down political discourses in the representations.