Understanding organizational wrongdoing
Elonheimo, Henrik (2015-02-05)
---
Understanding organizational wrongdoing
(05.02.2015)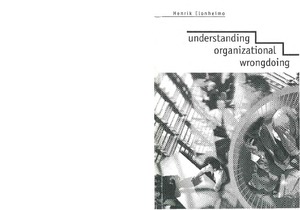 Turun yliopisto
avoin
Julkaisun pysyvä osoite on:
https://urn.fi/URN:NBN:fi-fe201502051517
Kuvaus
Siirretty Doriasta
Tiivistelmä
The topic is white collar crime in its organizational form. The research question is why otherwise law-abiding people engage in wrongful behavior within legitimate organizations and what kinds of dynamics are involved in wrongful organizational processes. This is a theoretical inquiry the method of which is to bring together relevant literature on organizational behavior regardless of the branch of science. In addition to criminological and sociolegal writings, I mostly refer to works of social psychology and organization theory.

At first, I discuss the terminological multiplicity related to organizational white collar crime. In conclusion from a critical analysis of the dominant terms and definitions, I argue for the concept of organizational wrongdoing. The approach of organizational wrongdoing captures unethical, illegal and criminal organizational behavior. Thus, it is not retricted by legislative categories but ethical reasoning. The approach aims at grasping a behavioral entity, and state law crimes do not constitute an ontology of behavior.

In order to understand organizational wrongdoing, the dominant criminological theories applied to white collar crime are discussed. To a surprisingly large extent, they lack a sophisticated organizational perspective and do not offer viable frameworks for building a plausible theory of organizational white collar crime. In order to fill the gap, I incorporate the social psychological dynamics of organizational behavior and present several findings on collective behavior that criminological theorization must come to terms with.

------

This publication has been first presented and accepted as a master's thesis at the Faculty of Law, University of Turku. It has been published on the series: Criminal Law and Judicial Procedure, Series B: 15, in print format. The publication was digitized in 2015 and published online.