Fundraising and investor relations in social enterprise: Marketing your way out of the pioneer gap in African off-grid renewable energy
Kokkonen, Saila (2014-11-05)
---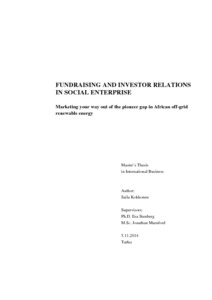 avoin
05.11.2014
Julkaisun pysyvä osoite on:
http://urn.fi/URN:NBN:fi-fe201504142642
Kuvaus
siirretty Doriasta
Tiivistelmä
Social enterprises apply the best of business for the pursuit of social or environmental mission while also generating revenues. Globally, nearly 1,3 billion people lack access to electricity, as well as another billion having access to only low quality and infrequent electricity. Off-grid renewable energy, like solar, will increasingly have a key role in the solution of the energy access issue. The pioneer gap in off-grid renewable energy consists of financing (or funding) gaps and capacity gaps, to do with both the early stage of the enterprises in question, as well as the early stage of the whole industry. The gaps are emphasised by specific characteristics of off-grid renewable energy business models and the requirements of operating in bottom-of-the-pyramid markets. The marketing perspective to fundraising is chosen to uncover the possible role enterprises themselves have in bridging the pioneer gap. The purpose of this thesis is to study how social enterprises operating in off-grid renewable energy in Africa utilise marketing activities in their investor relations in bridging the pioneer gap. This main research question is divided into the following sub-questions:
 How does the pioneer gap affect fundraising for these enterprises?
 How are the funding needs for these enterprises characterised?
 How do these enterprises build trust in their investor relations?
The theoretic framework is built on relationship marketing and investor relations, with an emphasis on creation of trust. The research is conducted as a thematical case study. Primary data is gathered via semi-structured interviews with six solar energy companies and two accelerators. According to the findings, the main components affecting trust-creation are diminished information asymmetry and perceived risk, mission alignment as well as a personal fit or relationship with the investor. Therefore, an enterprise can utilise e.g. the following marketing activities in their investor relations to bridge the pioneer gap: ensuring investor material, the enterprise story and presenting of them is clear, concise and complete to "package" the enterprise as an investment; taking investor needs and motivations into account as well as utilising existing investors as ambassadors.