Integrating corporate social responsibility into business in Finnish consumer goods companies
Korpinen, Maiju (2014-11-11)
---
Integrating corporate social responsibility into business in Finnish consumer goods companies
(11.11.2014)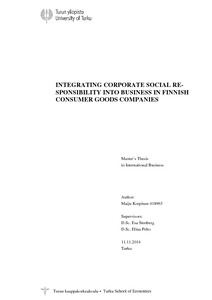 avoin
Julkaisun pysyvä osoite on:
https://urn.fi/URN:NBN:fi-fe201504212762
Kuvaus
siirretty Doriasta
Tiivistelmä
The motives for this study originated from the notion that surprisingly little academic literature is found on actually managing and putting corporate social responsibility (CSR) into practice, in comparison with the definitions and frameworks of the concept itself. Regardless of the author, CSR has been considered consisting of three dimensions: economic, social and environmental. The question behind the three dimensions has always been whether socially and environmentally responsible behavior can lead to increased economic performance and improve the competitiveness of a company. Most of the current CSR development has related to the quantification of environmental and social performance in order to review these along with the established financial key ratios, which are based on the law and the reporting obligation of the companies. However, the previous research has mainly focused on US companies whereas studies with a European viewpoint, let alone Nordic, have been mostly lacking. Furthermore, it has been discovered recently that the integration of corporate responsibility into business is identified as the greatest challenge in CSR management in Finnish large companies.
Therefore the integration of CSR into business in Finnish consumer goods companies provided an interesting, topical and somewhat obscure purpose for this study. This was further divided into three research questions concerning the reasons for CSR engagement, the role of the stakeholders and the practice of corporate responsibility. This study did not aim to build a new theory; instead an explorative viewpoint was regarded more appropriate. Accordingly, qualitative research approach and case study design were adopted in the study. Semi-structured theme interviews were used as a primary data collection method and complemented with secondary data such as websites, responsibility reports and another recent CSR study. There were four Finnish managers as interviewees of whom three presented companies and one non-profit organization.
The results were somewhat convergent but differences arose as a result of the companies being at different stages as regards corporate responsibility. However, this provided only more insight into the implementation of CSR. The voluntary CSR initiatives, responsibility reporting, stakeholders and CSR management were identified as the most important viewpoints on the practical side of CSR, besides a key requirement for the integration of CSR into business to be credible was found to be a favorable management attitude. Based on the findings of this study it was admitted that giving concrete advice on CSR management is really a challenge and there is no one generally accepted and right manner to integrate corporate responsibility successfully into business.