Towards sustainable transport: A comparison of demographic and behavioural characteristics of Finnish and international car sharing users
Lang, Robert (2015-03-17)
---
Towards sustainable transport: A comparison of demographic and behavioural characteristics of Finnish and international car sharing users
(17.03.2015)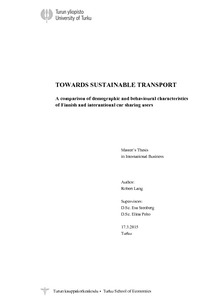 avoin
Julkaisun pysyvä osoite on:
https://urn.fi/URN:NBN:fi-fe201504222822
Kuvaus
siirretty Doriasta
Tiivistelmä
SStrong evidence suggests that the climate is changing and that these changes are largely caused by human activities. A consensus exists among researchers that human activity is causing global warming and that actions to mitigate global warming need to be taken swiftly. The transportation sector, which relies heavily on fossil fuel burning and primarily oil, is one of the big contributors to air pollution problems at local, regional and global levels. It is the fastest growing source of greenhouse gas emissions and is estimated to be responsible for nearly a quarter of global energyrelated carbon dioxide emissions.

Car sharing is a mobility solution encouraging its users to decrease private car usage in favour of communal transit and environmental goals. The idea of car sharing originates from the aspiration
to decrease personal car ownership and to reduce vehicle distance travelled. This thesis seeks to complement the understanding of Finnish car sharing users and their usage through better categorization. Through better categorization and segmentation of Finnish car sharing users the thesis seeks to provide information for improved marketing insight. Research is done on the demographic and behavioural characteristics of Finnish car sharing users and they are compared with international findings about the characteristics of International car sharing users. The main research problem is Are Finnish car sharing users similar to international ones?

A theoretical research framework on the determinants of individual car sharing usage is built based on international research about demographic and behaviouristic characteristics. After this a quantitative survey is performed to the customers of a Finnish car sharing organization. The data analysed in the thesis consist out of 532 answers received from the car sharing organizations customers. The data is analysed with descriptive and other exploratory methods, which create an understanding of Finnish car sharing users. At the end of the analysis the demographic and behavioural characteristics of Finnish car sharing users are compared with international ones.

The research findings of the thesis indicate that the demographic and behavioural characteristics of Finnish car sharing usage largely follow those of their international counterparts. Thanks to the thesis results the car sharing organization is able to better target their customers through improved marketing insight.