Issues in the Transatlantic Trade and Investment Partnership: A critical discourse analysis
Niini, Laura (2014-09-16)
---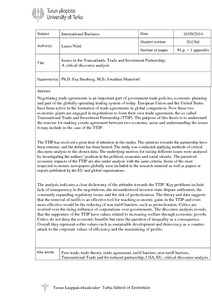 avoin
16.09.2014
Julkaisun pysyvä osoite on:
https://urn.fi/URN:NBN:fi-fe2015061710387
Kuvaus
siirretty Doriasta
Tiivistelmä
Negotiating trade agreements is an important part of government trade policies, economic planning and part of the globally operating trading system of today. European Union and the United States have been active in the formation of trade agreements in global comparison. Now these two economic giants are engaged in negotiations to form their own trade agreement, the so called Transnational Trade and Investment Partnership (TTIP). The purpose of this thesis is to understand the reasons for making a trade agreement between two economic areas and understanding the issues it may include in the case of the TTIP.

The TTIP has received a great deal of attention in the media. The opinions towards the partnership have been extreme, and the debate has been heated. The purpose of this study is to introduce the nature of the public discussion regarding the TTIP from Spring 2013 until 2014. The research problem is to find out what are the main issues in the agreement and what are the values influencing them. The study was conducted applying methods of critical discourse analysis to the chosen data. This includes gathering the issues from the data based on the attention each has received in the discussion. The underlying motives for raising different issues were analysed by investigating the authors' position in the political, economic and social circuits. The perceived economic impacts of the TTIP are also under analysis with the same criteria. Some of the most respected economic newspapers globally were included in the research material as well as papers or reports published by the EU and global organisations.

The analysis indicates a clear dichotomy of the attitudes towards the TTIP. Key problems include lack of transparency in the negotiations, the misunderstood investor-state dispute settlement, the constantly expanding regulatory issues and the risk of protectionism. The theory and data does suggest that the removal of tariffs is an effective tool for reaching economic gains in the TTIP and even more effective would be the reducing of non-tariff barriers, such as protectionism. Critics are worried over the rising influence of corporations over governments. The discourse analysis reveals that the supporters of the TTIP have values related to increasing welfare through economic growth. Critics do not deny the economic benefits but raise the question of inequality as a consequence. Overall they represent softer values such as sustainable development and democracy as a counter-attack to the corporate values of efficiency and the maximising of profits.