Collective redundancies in the State of California of the United States and in the Republic of Finland. Procedures and Provisions
Kopra, Eila (2015-08-25)
---
Collective redundancies in the State of California of the United States and in the Republic of Finland. Procedures and Provisions
(25.08.2015)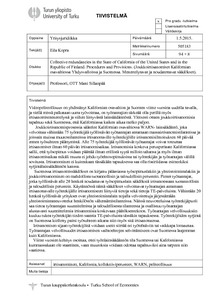 avoin
Julkaisun pysyvä osoite on:
https://urn.fi/URN:NBN:fi-fe2015082511004
Kuvaus
siirretty Doriasta
Tiivistelmä
Video games industry has recently bonded California and Finland in a new way and where the
employers are recruiting they also need to be aware of the provisions and procedures related to
terminations. In general, collective dismissals are on a relatively high level both in Finland and in
California.
In California, collective redundancies are regulated under the WARN law. The WARN obligates
employers with 75 or more employees to give a 60-day notice prior to a mass lay off and some
other similar events. Employers with less than 75 employees are free to administer the terminations
without the WARN notice period. Generally, the California at-will presumption allows employment
relationship to be terminated any day with or without reason and without notice period if conditions
of collective agreements or employment contract do not limit this right. Termination cannot anyhow
be in violation of the anti-discrimination law.
In Finland the termination related provisions are part of the Employment Contracts Act and the
Act on Co-operation within Undertakings. Collective redundancies are allowed under financial and
production related grounds. Small employers with less than 20 employees follow the termination
provisions of the Employment Contracts Act and are obligated to inform the employee to be
terminated on the details of the termination itself and also the services of the Employment and
Economic Development Office. Employers with 20 or more employees are to initiate co-operation
procedure under the Act on Co-operation within Undertakings when reducing personnel. The co-
operation negotiations are to inform employees on the employer's plans and financial situation as
well as to involve them in the decision making regarding the terminations. The employer's duty to
inform the employees of the services of Employment and Economic Development Office needs to
be fulfilled also in terminations under the co-operation procedure. Discrimination is prohibited in
Finland in terminations of employment.
As an alternative for terminations, employees can for example be transferred to another position
or be temporarily laid off. Employer's duties related to search of alternatives for layoff are broader
in Finland than in California.
The recent development of the labor laws in Finland and in California suggests that the labor law
is not static in either one of these environments but changes can be expected as the needs of the
business life so require.