How Lean Six Sigma and Agile principles optimize ITIL-based processes
Luo, Bingcheng (2015-09-22)
---
How Lean Six Sigma and Agile principles optimize ITIL-based processes
(22.09.2015)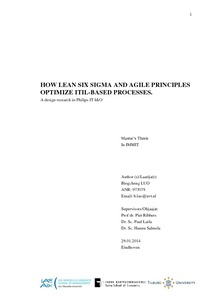 avoin
Julkaisun pysyvä osoite on:
https://urn.fi/URN:NBN:fi-fe2015092213764
Kuvaus
siirretty Doriasta
Tiivistelmä
Imagine the potential implications of an organization whose business and IT processes are well aligned and are capable of reactively and proactively responding to the external and internal changes. The Philips IT Infrastructure and Operations department (I&O) is undergoing a series of transformation activities to help Philips business keeping up with the changes. I&O would serve a critical function in any business sectors; given that the I&O's strategy switched from "design, build and run" to "specify, acquire and performance manage", that function is amplified. In 2013, I&O's biggest transforming programme I&O Futures engaged multiple interdisciplinary departments and programs on decommissioning legacy processes and restructuring new processes with respect to the Information Technology Internet Library (ITIL), helping I&O to achieve a common infrastructure and operating platform (CI&OP). The author joined I&O Futures in the early 2014 and contributed to the CI&OP release 1, during which a designed model Bing Box and its evaluations were conducted through the lens of six sigma's structured define-measure-analyze-improve-control (DMAIC) improvement approach. This Bing Box model was intended to firstly combine business and IT principles, namely Lean IT, Agile, ITIL best practices, and Aspect-oriented programming (AOP) into a framework. Secondly, the author implemented the modularized optimization cycles according to the defined framework into Philips' ITIL-based processes and, subsequently, to enhance business process performance as well as to increase efficiency of the optimization cycles. The unique of this thesis is that the Bing Box model not only provided comprehensive optimization approaches and principles for business process performance, but also integrated and standardized optimization modules for the optimization process itself.
The research followed a design research guideline that seek to extend the boundaries of human and organizational capabilities by creating new and innovative artifacts. The Chapter 2 firstly reviewed the current research on Lean Six Sigma, Agile, AOP and ITIL, aiming at identifying the broad conceptual bases for this study. In Chapter 3, we included the process of constructing the Bing Box model. The Chapter 4 described the adoption of Bing Box model: two-implementation case validated by stakeholders through observations and interviews. Chapter 5 contained the concluding remarks, the limitation of this research work and the future research areas. Chapter 6 provided the references used in this thesis.
Master's thesis