Exploring business models for medical games: Key components and challenges
Pamppunen, Julius (2015-09-22)
---
Exploring business models for medical games: Key components and challenges
(22.09.2015)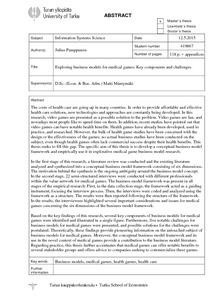 avoin
Julkaisun pysyvä osoite on:
https://urn.fi/URN:NBN:fi-fe2015112318276
Kuvaus
siirretty Doriasta
Tiivistelmä
The costs of health care are going up in many countries. In order to provide affordable and effective
health care solutions, new technologies and approaches are constantly being developed. In this
research, video games are presented as a possible solution to the problem. Video games are fun, and
nowadays most people like to spend time on them. In addition, recent studies have pointed out that
video games can have notable health benefits. Health games have already been developed, used in
practice, and researched. However, the bulk of health game studies have been concerned with the
design or the effectiveness of the games; no actual business studies have been conducted on the
subject, even though health games often lack commercial success despite their health benefits. This
thesis seeks to fill this gap. The specific aim of this thesis is to develop a conceptual business model
framework and empirically use it in explorative medical game business model research.



In the first stage of this research, a literature review was conducted and the existing literature
analyzed and synthesized into a conceptual business model framework consisting of six dimensions.
The motivation behind the synthesis is the ongoing ambiguity around the business model concept.
In the second stage, 22 semi-structured interviews were conducted with different professionals
within the value network for medical games. The business model framework was present in all
stages of the empirical research: First, in the data collection stage, the framework acted as a guiding
instrument, focusing the interview process. Then, the interviews were coded and analyzed using the
framework as a structure. The results were then reported following the structure of the framework.
In the results, the interviewees highlighted several important considerations and issues for medical
games concerning the six dimensions of the business model framework.



Based on the key findings of this research, several key components of business models for medical
games were identified and illustrated in a single figure. Furthermore, five notable challenges for
business models for medical games were presented, and possible solutions for the challenges were
postulated. Theoretically, these findings provide pioneering information on the untouched subject of
business models for medical games. Moreover, the conceptual business model framework and its
use in the novel context of medical games provide a contribution to the business model literature.
Regarding practice, this thesis further accentuates that medical games can offer notable benefits to
several stakeholder groups and offers advice to companies seeking to commercialize these games.