Sustainable Development – the Key to Competitiveness CSR as an added value to Alstom's corporate performance
Sreeganthan, Priya (2015-09-23)
---
Sustainable Development – the Key to Competitiveness CSR as an added value to Alstom's corporate performance
(23.09.2015)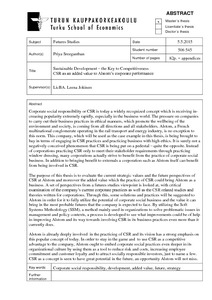 avoin
Julkaisun pysyvä osoite on:
https://urn.fi/URN:NBN:fi-fe2015092313900
Kuvaus
siirretty Doriasta
Tiivistelmä
Corporate social responsibility or CSR is today a widely recognized concept which is receiving in-
creasing popularity extremely rapidly, especially in the business world. The pressure on companies
to carry out their business practices in ethical manners, which promote the wellbeing of the
environment and society, is coming from all directions and all stakeholders. Alstom, a French
multinational conglomerate operating in the rail transport and energy industry, is no exception to
this norm. This company, which will be used as the case example in this thesis, is being brought to
bay in terms of engaging in CSR practices and practicing business with high ethics. It is surely not a
negatively conceived phenomenon that CSR is being put on a pedestal – quite the opposite. Instead
of corporations practicing CSR only to meet their stakeholder requirements through practicing
window dressing, many corporations actually strive to benefit from the practice of corporate social
business. In addition to bringing benefit to externals a corporation such as Alstom itself can benefit
from being involved in CSR.



The purpose of this thesis is to evaluate the current strategic values and the future perspectives of
CSR at Alstom and moreover the added value which the practice of CSR could bring Alstom as a
business. A set of perspectives from a futures studies viewpoint is looked at, with critical
examination of the company's current corporate practices as well as the CSR related studies and
theories written for corporations. Through this, some solutions and practices will be suggested to
Alstom in order for it to fully utilize the potential of corporate social business and the value it can
bring in the most probable futures that the company is expected to face. By utilizing the Soft
Systems Methodology (SSM), a method mainly used in organizations to solve problematic issues in
management and policy contexts, a process is developed to see what improvements could be of help
in improving Alstom and its way towards involving CSR in its business practices even more than it
currently does.



Alstom is already deeply involved in the practicing of CSR and its vision has a strong emphasis on
this popular concept of today. In order to stay in the game and to use CSR as a competitive
advantage to the company, Alstom ought to embed corporate social practices even deeper in its
organizational culture by using them as a tool to reduce risk and costs, increasing employee
commitment and customer loyalty and to attract socially responsible investors, just to name a few.
CSR as a concept is seen to have great potential in the future, an opportunity Alstom will not miss.