FUTURES OF FINNISH FOOD SYSTEM BY 2050. The perspective of resilience
Tapiola, Titta (2015-09-24)
---
FUTURES OF FINNISH FOOD SYSTEM BY 2050. The perspective of resilience
(24.09.2015)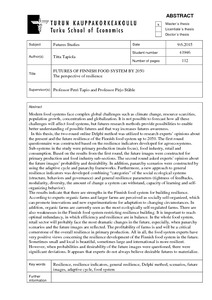 avoin
Julkaisun pysyvä osoite on:
https://urn.fi/URN:NBN:fi-fe2015092414010
Kuvaus
siirretty Doriasta
Tiivistelmä
Modern food systems face complex global challenges such as climate change, resource scarcities,
population growth, concentration and globalization. It is not possible to forecast how all these
challenges will affect food systems, but futures research methods provide possibilities to enable
better understanding of possible futures and that way increases futures awareness.
In this thesis, the two-round online Delphi method was utilized to research experts' opinions about
the present and the future resilience of the Finnish food system up to 2050. The first round
questionnaire was constructed based on the resilience indicators developed for agroecosystems.
Sub-systems in the study were primary production (main focus), food industry, retail and
consumption. Based on the results from the first round, the future images were constructed for
primary production and food industry sub-sections. The second round asked experts' opinion about
the future images' probability and desirability. In addition, panarchy scenarios were constructed by
using the adaptive cycle and panarchy frameworks. Furthermore, a new approach to general
resilience indicators was developed combining "categories" of the social ecological systems
(structure, behaviors and governance) and general resilience parameters (tightness of feedbacks,
modularity, diversity, the amount of change a system can withstand, capacity of learning and self-
organizing behavior).
The results indicate that there are strengths in the Finnish food system for building resilience.
According to experts organic farms and larger farms are perceived as socially self-organized, which
can promote innovations and new experimentations for adaptation to changing circumstances. In
addition, organic farms are currently seen as the most ecologically self-regulated farms. There are
also weaknesses in the Finnish food system restricting resilience building. It is important to reach
optimal redundancy, in which efficiency and resilience are in balance. In the whole food system,
retail sector will probably face the most dramatic changes in the future, especially, when panarchy
scenarios and the future images are reflected. The profitability of farms is and will be a critical
cornerstone of the overall resilience in primary production. All in all, the food system experts have
very positive views concerning the resilience development of the Finnish food system in the future.
Sometimes small and local is beautiful, sometimes large and international is more resilient.
However, when probabilities and desirability of the future images were questioned, there were
significant deviations. It appears that experts do not always believe desirable futures to materialize.