Commitment in Finnish–Japanese strategic alliances
Talvitie, Ville (2015-10-16)
---
Commitment in Finnish–Japanese strategic alliances
(16.10.2015)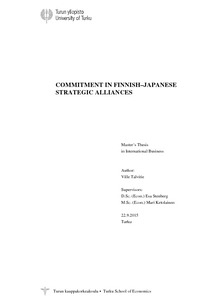 avoin
Julkaisun pysyvä osoite on:
https://urn.fi/URN:NBN:fi-fe2015101614931
Kuvaus
siirretty Doriasta
Tiivistelmä
Finnish companies have usually formed a strategic alliance as entry mode when entering the Japanese market. However, these strategic alliances have not been studied in a general level and it remains unknown, what kind cooperation the Finnish companies are operating with their Japanese partners. Especially Finnish companies that aims to penetrate the Japanese market are eager to know more about this. The recent studies on topic have focused on a single industry or company and that is why more general level study was needed. The purpose of this study is to analyze types of Finnish–Japanese strategic alliances from the Finnish point of view. The analysis is conducted by answering the questions what strategic alliance types appear in the strategic alliances between Japanese and Finnish companies, and how commitment affects strategic alliance type. This study also examines how committed Finnish–Japanese strategic alliances are. In this study multiple case study was selected as research method. The data is collected by interviewing six representative of Finnish companies in Japan individually. Multiple case study was chosen for this study, because this study is interested in the topic in general level and this research method is suitable for this kind of research. From the interviews common attributes were pointed out and from them the big picture of the topic was created. Types of strategic alliances were determined by using previous literature on that topic. Two different types of strategic alliance were discovered: supplier alliance which is the most common one and learning alliance. The commitment of strategic alliance was measured visually by utilizing a figure that was modified for this study.The figure is originally based on earlier studies on strategic alliance types and their connection to ownership and commitment. By utilizing the figure it was noticed that commitment affects strategic alliance types: the more there is commitment involved, the more there is cooperation. Finnish–Japanese strategic alliances are not very committed despite they have existed for a long time. However, there is potential to be more committed. That is why Finnish companies should increase the commitment and attract the partners to develop the strategic alliances, because it would possible increase competitive advantage. This would be beneficial to all members within the strategic alliance.