GIS-based approach for optimization of onshore wind park infrastructure alignment in Finland
Jakobsson, Olli (2016-05-23)
---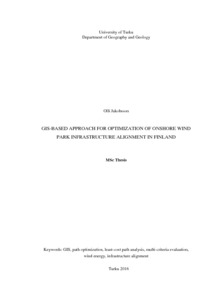 avoin
Turun yliopisto
23.05.2016
Julkaisun pysyvä osoite on:
http://urn.fi/URN:NBN:fi-fe2016052312639
Kuvaus
Siirretty Doriasta
Tiivistelmä
Wind power is a rapidly developing, low-emission form of energy production. In Fin-land, the official objective is to increase wind power capacity from the current 1 005 MW up to 3 500–4 000 MW by 2025. By the end of April 2015, the total capacity of all wind power project being planned in Finland had surpassed 11 000 MW. As the amount of projects in Finland is record high, an increasing amount of infrastructure is also being planned and constructed. Traditionally, these planning operations are conducted using manual and labor-intensive work methods that are prone to subjectivity.
This study introduces a GIS-based methodology for determining optimal paths to sup-port the planning of onshore wind park infrastructure alignment in Nordanå-Lövböle wind park located on the island of Kemiönsaari in Southwest Finland. The presented methodology utilizes a least-cost path (LCP) algorithm for searching of optimal paths within a high resolution real-world terrain dataset derived from airborne lidar scannings. In addition, planning data is used to provide a realistic planning framework for the anal-ysis. In order to produce realistic results, the physiographic and planning datasets are standardized and weighted according to qualitative suitability assessments by utilizing methods and practices offered by multi-criteria evaluation (MCE). The results are pre-sented as scenarios to correspond various different planning objectives. Finally, the methodology is documented by using tools of Business Process Management (BPM).
The results show that the presented methodology can be effectively used to search and identify extensive, 20 to 35 kilometers long networks of paths that correspond to certain optimization objectives in the study area. The utilization of high-resolution terrain data produces a more objective and more detailed path alignment plan. This study demon-strates that the presented methodology can be practically applied to support a wind power infrastructure alignment planning process. The six-phase structure of the method-ology allows straightforward incorporation of different optimization objectives. The methodology responds well to combining quantitative and qualitative data. Additional-ly, the careful documentation presents an example of how the methodology can be eval-uated and developed as a business process. This thesis also shows that more emphasis on the research of algorithm-based, more objective methods for the planning of infrastruc-ture alignment is desirable, as technological development has only recently started to realize the potential of these computational methods.