Tapes, Transgression and Mundanity: the participatory engenderment of death metal and grindcore
Jones, Steven (2016-08-02)
---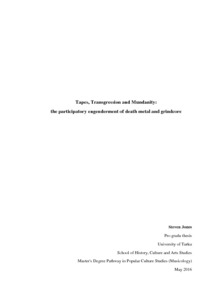 avoin
Turun yliopisto
02.08.2016
Julkaisun pysyvä osoite on:
http://urn.fi/URN:NBN:fi-fe2016080222585
Kuvaus
Siirretty Doriasta
Tiivistelmä
Since its origins in the early 1980s, the popular rise of extreme metal throughout the globe has been phenomenal. The emergence of extreme metal's most sonically transgressive subgenres of death metal and grindcore between the mid 1980s and the early 1990s, however, was not an easy one. Indeed, during this period, the only way for globally dispersed extreme metal fans and unsigned extreme metal bands to stay musically connected was via the underground practice of tape-trading.

The aim of this study is to illuminate the impact of tape-trading upon the global spread of extreme metal. The study will situate the historical context of extreme metal tape-trading by exploring how it emerged, and why it was necessary in the first place. Utilising the concept of 'extreme metal scene', the study will focus on the central scenic discourse of transgression and explore how this was negotiated into the mundane scenic practice of tape-trading. In relation to this, and utilising the concept of participatory culture, the study will further explore how the music arose and spread throughout the globe via the socially networked practice of both musician and non-musician tape-traders in relation to the tape cassette technology itself. Ethnographic interviews were undertaken with both types of traders in order to gain a deeper understanding of the phenomenon in question.

The research concludes that the tape-traders were able to challenge the status quo of record company gatekeepers, by facilitating the engenderment and global distribution (including the later commercial distribution) of death metal and grindcore. Such powerfully affective music via its continual global spread, offers as it did for the original tape-traders, a pleasurable and empowering communal/personal space for disempowered people throughout the globe. Further research into extreme metal tape-trading would require deeper exploration into other extreme metal subgenres, especially black metal, tape-traders situated outside of North America and Europe, women tape-traders as well as exploration of the phenomenon after the early 1990s.