Usability and Security in Medication. Administration Applications
Pradhan, Ranjita (2016-08-05)
---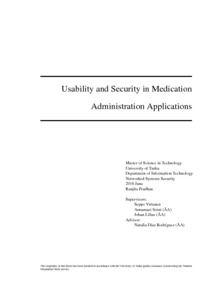 avoin
Turun yliopisto
05.08.2016
Julkaisun pysyvä osoite on:
http://urn.fi/URN:NBN:fi-fe2016080522611
Kuvaus
Siirretty Doriasta
Tiivistelmä
The traditional process of filling the medicine trays and dispensing the medicines to the patients in the hospitals is manually done by reading the printed paper medicinechart. This process can be very strenuous and error-prone, given the number of sub-tasksinvolved in the entire workflow and the dynamic nature of the work environment.Therefore, efforts are being made to digitalise the medication dispensation process byintroducing a mobile application called Smart Dosing application. The introduction ofthe Smart Dosing application into hospital workflow raises security concerns and callsfor security requirement analysis.

This thesis is written as a part of the smart medication management project at EmbeddedSystems Laboratory, A˚bo Akademi University. The project aims at digitising the medicine dispensation process by integrating information from various health systems, and making them available through the Smart Dosing application. This application is intended to be used on a tablet computer which will be incorporated on the medicine tray. The smart medication management system include the medicine tray, the tablet device, and the medicine cups with the cup holders. Introducing the Smart Dosing application should not interfere with the existing process carried out by the nurses, and it should result in minimum modifications to the tray design and the workflow. The re-designing of the tray would include integrating the device running the application into the tray in a manner that the users find it convenient and make less errors while using it.

The main objective of this thesis is to enhance the security of the hospital medicine dispensation process by ensuring the security of the Smart Dosing application at various levels. The methods used for writing this thesis was to analyse how the tray design, and the application user interface design can help prevent errors and what secure technology choices have to be made before starting the development of the next prototype of the Smart Dosing application. The thesis first understands the context of the use of the application, the end-users and their needs, and the errors made in everyday medication dispensation workflow by continuous discussions with the nursing researchers. The thesis then gains insight to the vulnerabilities, threats and risks of using mobile application in hospital medication dispensation process. The resulting list of security requirements was made by analysing the previously built prototype of the Smart Dosing application, continuous interactive discussions with the nursing researchers, and an exhaustive state-of-the-art study on security risks of using mobile applications in hospital context. The thesis also uses Octave Allegro method to make the readers understand the likelihood and impact of threats, and what steps should be taken to prevent or fix them. The security requirements obtained, as a result, are a starting point for the developers of the next iteration of the prototype for the Smart Dosing application.