Calibration and simulations of SIXS-P's response to energetic particles
Heino, Erkka (2016-08-08)
---
Calibration and simulations of SIXS-P's response to energetic particles
(08.08.2016)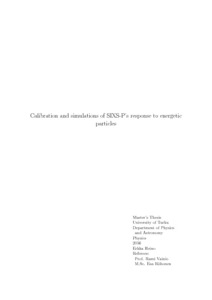 Turun yliopisto
avoin
Julkaisun pysyvä osoite on:
https://urn.fi/URN:NBN:fi-fe2016080822628
Kuvaus
Siirretty Doriasta
Tiivistelmä
The Solar Intensity X-ray and particle Spectrometer (SIXS) on board BepiColombo's Mercury Planetary Orbiter (MPO) will study solar energetic particles moving towards Mercury and solar X-rays on the dayside of Mercury. The SIXS instrument consists of two detector sub-systems; X-ray detector SIXS-X and particle detector SIXS-P. The SIXS-P subdetector will detect solar energetic electrons and protons in a broad energy range using a particle telescope approach with five outer Si detectors around a central CsI(Tl) scintillator. The measurements made by the SIXS instrument are necessary for other instruments on board the spacecraft. SIXS data will be used to study the Solar X-ray corona, solar flares, solar energetic particles, the Hermean magnetosphere, and solar eruptions.

The SIXS-P detector was calibrated by comparing experimental measurement data from the instrument with Geant4 simulation data. Calibration curves were produced for the different side detectors and the core scintillator for electrons and protons, respectively. The side detector energy response was found to be linear for both electrons and protons. The core scintillator energy response to protons was found to be non-linear. The core scintillator calibration for electrons was omitted due to insufficient experimental data.
The electron and proton acceptance of the SIXS-P detector was determined with Geant4 simulations. Electron and proton energy channels are clean in the main energy range of the instrument. At higher energies, protons and electrons produce non-ideal response in the energy channels.
Due to the limited bandwidth of the spacecraft's telemetry, the particle measurements made by SIXS-P have to be pre-processed in the data processing unit of the SIXS instrument. A lookup table was created for the pre-processing of data with Geant4 simulations, and the ability of the lookup table to provide spectral information from a simulated electron event was analysed. The lookup table produces clean electron and proton channels and is able to separate protons and electrons. Based on a simulated solar energetic electron event, the incident electron spectrum cannot be determined from channel particle counts with a standard analysis method.