Disruption of Clever-1 for Novel Anticancer Immunotherapy
Viitala, Miro (2016-11-22)
---
Disruption of Clever-1 for Novel Anticancer Immunotherapy
(22.11.2016)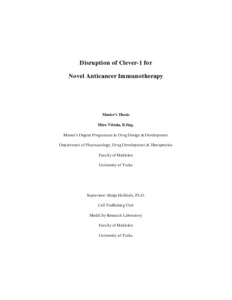 Turun yliopisto
avoin
Julkaisun pysyvä osoite on:
https://urn.fi/URN:NBN:fi-fe2016112229545
Kuvaus
Siirretty Doriasta
Tiivistelmä
The progression of cancer is dependent on the quality of the immune response elicited by the tumour. Typically, proinflammatory immune responses restrain and anti-inflammatory immune responses promote the progression of cancer. Thee immunosuppression caused by anti-inflammatory leukocytes, such as regulatory T cells and alternatively activated macrophages, is a major obstacle in the successful treatment of cancer.

Clever-1 is a multifunctional protein expressed by a subset of human monocytes and alternatively activated, or M2, macrophages. In these macrophages, Clever-1 is involved in receptor-mediated endocytosis, intracellular sorting, and transcytosis. Clever-1 is also expressed on lymphatic and vascular endothelia, where it mediates the trafficking of leukocytes from the lymph or blood into tissues. Lymphatics and macrophages expressing Clever-1 have been detected in human cancers, and high numbers of Clever-1-positive macrophages correlate with poorer prognoses in advanced colorectal cancer.

By using specific antibodies to interfere with the function Clever-1, we have recently demonstrated that Clever-1 antibody treatment limits the progression of cancer in animal models of melanoma and lymphoma. According to these results, the antibody-mediated interference of Clever-1 both before and after cancer cell implantation limits tumour growth and metastasis. However, the molecular mechanisms by which Clever-1 regulates the phenotype and function of tumour-associated macrophages during this process are very poorly understood.

The data presented in this master's thesis reveal novel molecular mechanisms employed by Clever-1 to regulate the function of M2 macrophages and suggest that Clever-1 antibody treatment may have immunotherapeutic potential in the treatment of breast cancer. According to the obtained results, Clever-1 promoted intracellular signal transduction through the anti-inflammatory mTORC1 complex in M2 macrophages. In accordance, the antibody-mediated interference of Clever-1 induced a proinflammatory response from M2 macrophages by increasing the production and secretion of TNF-alpha, a major mediator of inflammation. Furthermore, combinatorial antibody-mediated interference of Clever-1 and the immune checkpoint protein PD-1 decreased the relative amount of anti-inflammatory tumour-associated macrophages, thereby likely promoting a more proinflammatory milieu within the tumour microenvironment. Additionally, combinatorial Clever-1 and PD-1 antibody treatment appeared to limit tumour growth and metastasis also in a mouse model of triple-negative breast cancer.