Illiquidity effects on company valuation : Evidence from the Nordic stock markets
Leppäniemi, Lauri (2017-01-04)
---
Illiquidity effects on company valuation : Evidence from the Nordic stock markets
(04.01.2017)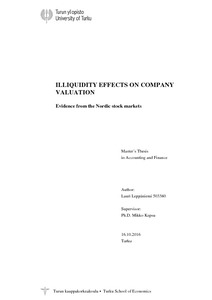 avoin
Julkaisun pysyvä osoite on:
https://urn.fi/URN:NBN:fi-fe201701041064
Kuvaus
siirretty Doriasta
Tiivistelmä
The liquidity cost comes from the fact that less liquid financial assets have higher execution costs to investors and therefore investors are not willing to pay as much as they would from pure liquid assets which are easy to sell quickly and with a reasonable price level. In general, limited liquidity can reduce potential equity value more than 50%. The purpose of this study is to measure the illiquidity discount for limited liquidity by using cross-sectional regression based on the observed market information from the Nordic stock markets. The research question in this study is following: how much an investor demands discount from perfectly liquid equity value in the case of limited liquidity? The research question is studied by building a roadmap to valuation and examining limited liquidity.

The cross-sectional regression models include regression arguments for each particular firm. These arguments are an expected rate of earnings growth, firm's payout ratio, risk of the share, the market value of the firm's equity and share's liquidity. In this study, the bid-ask spread is the main liquidity proxy based on its empirical evidence. The data is analyzed from OMX Helsinki, OMX Stockholm and OMX Copenhagen stock exchanges between 1 January 2013 and 30 June 2016. The sample includes 243 companies, 66 companies from Finland, 142 from Sweden and 35 from Denmark. The main finding of this study is that the illiquidity discount in the Nordic stock markets varies between 0.3% and 36.0% with the mean illiquidity discount is 3.5%. The illiquidity discount range varies between 16.5% and 65.3% for private companies with the perfectly liquid equity value of 500,000,000€ and 50,000€, respectively.

The results of this study show that the market are more efficient nowadays based on a lower median illiquidity discount compared with the previous studies. However, still liquidity plays an important role in company valuation and decision-making and the results of this study suggest that illiquidity should be taken into account, especially in company valuations in the Nordic environment. This study has also proved that the illiquidity discount would be smaller if a company was listed on a stock exchange, i.e. the risk of the company would be smaller due to increased liquidity and therefore the equity value would be higher.