"Plants are living too" The Diverse Carnism of Fur Farming Discourses in Finland – Values and Institutions.
Suveri, Lotte (2017-01-24)
---
"Plants are living too" The Diverse Carnism of Fur Farming Discourses in Finland – Values and Institutions.
(24.01.2017)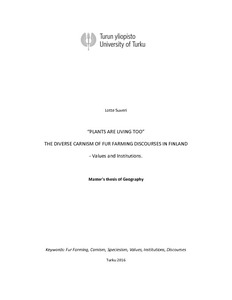 Turun yliopisto
avoin
Julkaisun pysyvä osoite on:
https://urn.fi/URN:NBN:fi-fe201701241301
Kuvaus
Siirretty Doriasta
Tiivistelmä
Various elements shape and sustain values related to animals in the society. Speciesism defines the value of animals depending on their use for human purposes and creates a base for carnistic culture that justifies the commodification of animals. There are various basic human values that interrelate with the mechanisms that justify carnistic behaviour and create a base for institutions supporting carnistic values. This research paper examines fur farming in Finland as a phenomenon constructed by different values. The main discourses related to fur farming are identified through interviews conducted by Q-methodology on a national and regional level.

The discourses were interpreted by combining the theory of basic human values (Schwartz 1992) with the theory of carnism (Joy 2010). In national discourse actors emphasized the ethical aspects of fur production and concluded that fur farming should be prohibited with a period of transition. Regional discourse was supportive of fur farming, pointing out the economic importance, tradition and trust in the certification guaranteeing animal welfare. A third discourse consisted of conciliatory aspects such as seeking of alternative solutions for fur farming. Carnistic elements were found in all discourses. Regional discourse consisted mainly of anxiety-avoiding values supporting carnism, whereas national discourse highlighted anxiety-free values helpful in deconstructing the carnistic schema. All discourses consisted of motivationally opposing values which supported contradictory ways of thinking about animals that was reflected in personal consumption of animal products. Institutions supporting and creating values related to fur farming such as education, legislation and certification were also identified in these discourses.