Magnetospheric truncation of an accretion disk around the unique X-ray pulsar GRO J1744-28
Mönkkönen, Juhani (2017-09-18)
---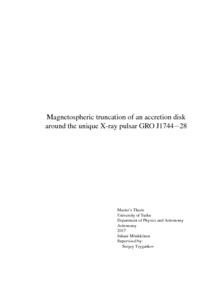 avoin
Turun yliopisto
18.09.2017
Julkaisun pysyvä osoite on:
http://urn.fi/URN:NBN:fi-fe201709188630
Tiivistelmä
Neutron stars are very massive yet compact objects, where both quantum mechanical and relativistic effects play a role. Many of them have magnetic fields which are many orders of magnitude stronger than what mankind can achieve in laboratories. In systems where a neutron star accretes matter from its binary companion, the magnetic fields affect the accretion process. If the accreted matter forms an accretion disk around the neutron star, the disk will be truncated and the matter guided onto the magnetic poles by the magnetic field. How this truncation happens and how the magnetic field shapes the resulting X-ray emission, depend on complex interactions between matter and radiation in these extreme fields. Thus observations of these nature's high-energy laboratories are crucial to the development of up-to-date physical models.

In my thesis, I examined observations of a unique accreting highly magnetized neutron star GRO J1744-28, also known as Bursting Pulsar. The pulsar reaches very high luminosities, at which its accretion disk might have a radiation pressure dominated inner zone, a feature which hasn't been directly observed in any other accreting X-ray pulsar. This could explain the rare type II bursts which are seen in this source and have been suggested to arise in a radiation-dominated accretion disk.

Random fluctuations are present in light curves of every accreting X-ray source and they are shaped at different timescales by various stochastic processes in the accretion disk. A natural way to inspect the fluctuations is a power density spectrum, which is a Fourier transform of the light curve data from time domain into frequency domain. In the present thesis, this method of timing analysis was utilized extensively and power density spectra were used for probing the conditions in the accretion disk at different luminosities. Theoretical framework was provided by the "perturbation propagation" model, which can explain how the shape of power spectra depend on the size and structure of the accretion disk. According to the perturbation propagation model, we should see a break in the power spectrum at high frequencies, where the break frequency corresponds to the Keplerian orbital frequency of the inner disk edge. Using the break frequencies in power spectra, we can then deduce the size of the magnetosphere at different luminosities.

The observed dependency of the break frequency on the luminosity is discussed in the frame of this perturbation propagation model and the dependency is shown to be inconsistent with a standard gas-pressure dominated inner disk at high luminosities. The shape of the power spectrum is calculated for an accretion disk which has a radiation-pressure dominated inner zone and compared to the data. We show that the data is consistent with the picture that the inner accretion disk is radiation pressure dominated.