How university technology transfer offices facilitate the creation of spinouts from academic life science research : Perspective on dynamic capabilities
Tullila, Antti (2017-09-26)
---
How university technology transfer offices facilitate the creation of spinouts from academic life science research : Perspective on dynamic capabilities
(26.09.2017)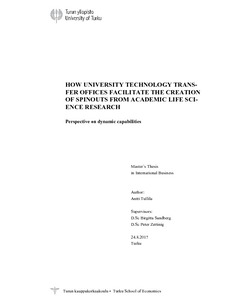 Turun yliopisto
avoin
Julkaisun pysyvä osoite on:
https://urn.fi/URN:NBN:fi-fe201709268733
Tiivistelmä
University research contributes to economic growth. Commercialization of research outputs in universities is often tasked to specific technology transfer offices. Commercialization strategies can include selling of the patented technology, licensing or establishment of a spinout company.

The aim of the study was to analyse how technology transfer offices facilitate spinout formation from academic life science research. Technology transfer offices operate in the field where novel research results are constantly evaluated and commercialized. The preliminary assumption of this study was that continuous development in the evaluation and management of commercialization activities require constant adjustments in the existing resource pool, suggesting the presence of dynamic capabilities. To achieve the research aims, three sub-questions were applied: first one to reveal the autonomy of the technology transfer offices, second one to reveal the stages of commercialization process, and third one to analyse how and why the selected case organizations have developed their commercialization practices aiming towards spinout formation.

Initial framework was constructed from existing literature. Three Finnish case organizations, all which are expected to have efficient practises for commercialization, were selected for study material. Data was collected by applying qualitative research design with open-ended semi-structured interview questions. Secondary data was collected from internet pages and from newspaper articles. Collected data was analysed first within single cases following cross-case analysis to evaluate the emerged similarities and differences between the cases.

Results revealed that all the three case organizations have high autonomy over their internal development tasks. Additionally, commercialization process in general proceeds with similar chronological order in all cases. Interestingly, the results indicated that there are multiple different dynamic capabilities present in various phases of commercialization procedure.

There are only a few empirical studies on dynamic capabilities, and this here presented study is the first one where dynamic capabilities are evaluated in the context of Finnish technology transfer offices. The emerging of multiple different indications of dynamic capabilities suggest that they are present in various forms of the commercialization process development. It is thus suggested that technology transfer offices are excellent case organizations for further studies where dynamic capabilities are empirically analysed. In addition, the results of this study are also beneficial for managers in various academic institutes that aim to develop their commercialization practices of academic life science inventions.