Costa Rica and Kenya as Ecotourism Destinations : Country Strategies vs. Visitor Perceptions
Talvinen, Miranna (2017-10-02)
---
Costa Rica and Kenya as Ecotourism Destinations : Country Strategies vs. Visitor Perceptions
(02.10.2017)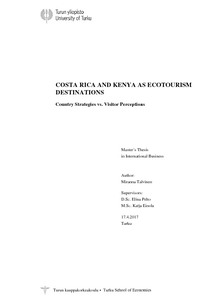 Turun yliopisto
avoin
Julkaisun pysyvä osoite on:
https://urn.fi/URN:NBN:fi-fe201710028849
Tiivistelmä
Tourism is one of the largest industries in the world, and especially the popularity of ecotourism has been steadily increasing in the recent decades. This study concentrates on two of the more prominent ecotourism destinations in the world, Costa Rica and Kenya. It has been suggested that ecotourism was born in Costa Rica, due to their incredible biodiversity within such a small country. Kenya, on the other hand, has become one of the most popular destinations for safaris, and the country is a home to a wide range of ecosystems and massive biodiversity. Protecting this ecological diversity is extremely important, and both countries have taken measures to achieve a sustainable level of tourism, ecotourism being one of these measures. The purpose of this study is to determine how visitors perceive Costa Rica and Kenya as ecotourism destinations, and how Costa Rica's and Kenya's ecotourism branding and tourism strategy align with the visitors' perceptions.

This qualitative analysis was conducted through netnographic content analysis. The data used for the analysis was collected from trip report discussion threads in four different travel related online discussion forums. These forum posts represent all first-hand descriptions of vacations in Costa Rica or Kenya, which provide an authentic source of data for this study. The trip reports were categorized and analyzed for terminology and narratives related to ecotourism, and then further analyzed within the framework provided by the countries' individual tourism strategies.

Based on the findings of this study, visitors travel to these destinations predominantly to observe the nature and wildlife but regardless, ecotourism is not an important concept for the vast majority of the visitors. Topics related to ecological and environmental issues were not widely spoken about, however, a large number of the visitors did engage in certain activities that could be considered ecotourism and/or stayed at eco-certified accommodation. While ecotourism as a concept takes into account the specific natural, economic, socio-economic and political environments of the destination, it is still a very restrictive concept with strict rules that do not allow much flexibility. Going forward, emphasizing the wider concept of sustainable tourism instead of ecotourism in the national tourism strategies could bring forth greater benefits for the destinations in the long term, as individual stakeholders could potentially adapt their operations to adhere to sustainable practices with less friction compared to transitioning to abiding by all of the rules of ecotourism.