Guanxi and international joint venture formation in China : A small and medium-sized enterprise perspective
Sarkki, Susanna (2017-10-02)
---
Guanxi and international joint venture formation in China : A small and medium-sized enterprise perspective
(02.10.2017)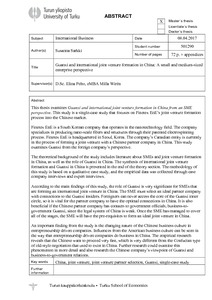 Turun yliopisto
avoin
Julkaisun pysyvä osoite on:
https://urn.fi/URN:NBN:fi-fe201710028853
Tiivistelmä
This thesis examines Guanxi and international joint venture formation in China from an SME perspective. This study is a single-case study that focuses on Finetex EnE's joint venture formation process into the Chinese market.

Finetex EnE is a South Korean company that operates in the nanotechnology field. The company specializes in producing nano-scale fibers and structures through their patented electrospinning process. Finetex EnE is headquartered in Seoul, Korea. The company's Canadian entity is currently in the process of forming a joint venture with a Chinese partner company in China. This study examines Guanxi from the foreign company's perspective.

The theoretical background of the study includes literature about SMEs and joint venture formation in China, as well as the role of Guanxi in China. The synthesis of international joint venture formation and Guanxi in China is presented in the end of the theory section. The methodology of this study is based on a qualitative case study, and the empirical data was collected through case company interviews and expert interviews.

According to the main findings of this study, the role of Guanxi is very significant for SMEs that are forming an international joint venture in China. The SME must select an ideal partner company with connections to the Guanxi insiders. Foreigners can never access the core of the Guanxi inner circle, so it is vital for the partner company to have the optimal connections in China. It is also beneficial if the Chinese partner company has contacts to government officials, business-to-government Guanxi, since the legal system of China is weak. Once the SME has managed to cover all of the stages, the SME will have the pre-requisites to form an ideal joint venture in China.

An important finding from the study is the changing nature of the Chinese business culture in entrepreneurship driven companies. Influences from the American business culture can be seen in the way that entrepreneurship driven companies do business in China. The empirical research reveals that the Chinese want to proceed very fast, which is very different from the Confucian type of old-style negotiation that used to exist in China. Further research could examine this phenomenon in more detail and also research the Chinese company's viewpoint of Guanxi and business-to-government relations.