Structural approach for credit risk modeling: An empirical analysis on European corporate bond prices
Poutanen, Olli (2017-10-11)
---
Structural approach for credit risk modeling: An empirical analysis on European corporate bond prices
(11.10.2017)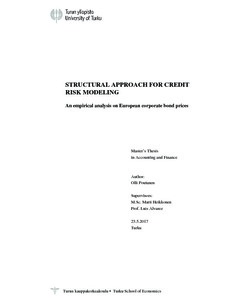 Turun yliopisto
avoin
Julkaisun pysyvä osoite on:
https://urn.fi/URN:NBN:fi-fe2017101150046
Tiivistelmä
In this thesis the structural approach for credit risk modeling as pioneered by Merton (1974) is studied. Structural models are appealing from the theoretical point of view as they link the valuation of debt to the economic fundamentals. The idea behind the original Merton model is to use the basics of the Black & Scholes (1973) option theory for pricing of corporate debt and equity. Despite the theoretical attractiveness, the structural models have often performed poorly in empirical tests. The traditional view is that the models underestimate the credit spreads of the corporate bonds. This has been accounted both for factors that are not taken into account by the models and for poor parameter estimation methods.

The empirical part of this thesis has two parts. First two of the structural models, namely the Merton and the Longstaff & Schwartz (1995) model, are implemented by using alternative parameter estimation methods. The bond prices and credit spreads based on the models are then compared to the ones observed on the market. Second the Merton model is used to build hedge ratios, i.e. sensitivities of the bond returns to the returns on equity. This way the model can be tested in capturing the credit risk part of the bond prices.

The results of the first part were quite well in line with the previous research and neither of the models were able to produce accurate credit spreads. Both the models severely underestimated the credit spreads on average. The asset volatility, leverage and asset payout parameters had a significant effect on the models' performance. This could be due to inaccurate parameter estimation or resulting from the fact that credit risk is often seen to account for larger portion of the credit spread for lower rated bonds. These bonds often have higher leverage and asset volatility, which could explain the fact that the models performed better for bonds with high leverage and volatility.

The second part showed that the Merton model was able to produce accurate hedge ratios on average for the bonds in average credit rating categories. However, for the bonds in far ends of the credit rating spectrum the model was rejected. The model appeared to produce correct hedge ratios only in a very average way and the correct specification of the model parameters was far from straightforward. The results of the thesis imply that while the structural approach could be useful in credit risk modeling its limitations should be considered when applying it in practice.