Improving salesforce performance : Introducing a customer profiling tool at Hilti
Rinnevaara, Anna (2017-10-31)
---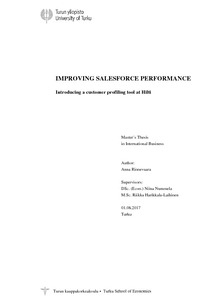 avoin
Turun yliopisto
31.10.2017
Julkaisun pysyvä osoite on:
http://urn.fi/URN:NBN:fi-fe2017103150448
Tiivistelmä
There is no business without sales. However, the increasing competitiveness of the markets makes it more difficult in succeeding to reach competitive advantage through sales as the high-paced competitive markets often forces the salesforce to use hard selling tactics. Hard selling may result in quick results, but do not generate long-term relationships with the customers, which in turn would generate more revenue for business-to-business companies. Therefore, many businesses are interested in finding solutions that help the salesforce to improve salesforce performance even in a high-pace competitive environment. This research introduces a solution for salesforce performance improvement in the form of a customer profiling tool. The research question of this study is: How to introduce a customer profiling tool to improve salesforce performance. Earlier research has largely neglected the subject of customer profiling for the use of a direct salesforce. As more and more companies are becoming multinational, this research is focused on finding a solution in a multinational context.

The study concentrated on examining the creation of a customer profiling tool and the planning of the implementation of said tool, through an intensive single case study. The empirical research was conducted by interviewing and observing the key people in the creation and implementation of a customer profiling tool in the case company. A constructive research approach is used, as the subject has both, theoretical and practical relevance. The subject was first suggested by the case company and the researcher was involved in the creation process of the customer profiling tool and the planning of the implementation.

The main findings of the empirical research are in line with the theoretical framework of the thesis. The success of salesforce performance is measured to the extent of which the salesforce meets salesforce objectives. Salesforce performance can be improved by using the following sales techniques: customer orientation, value based sales and sales model adaption. These three techniques are all based on understanding and getting to know the customer. A customer profiling tool can be used to help the salesforce understand and get to know the customer to an extent, faster than in face-to-face meetings. For the customer profiling tool to be useful, it needs to be based on the salesforce objectives and it needs to focus on finding solutions to the challenges that the salesforce faces in attaining these objectives. Furthermore, the creation and implementation of the tool needs to be partially adapted to the business environments.