The role of SPEF2 in spermatogenesis
Virtanen, Suvi (2017-12-05)
---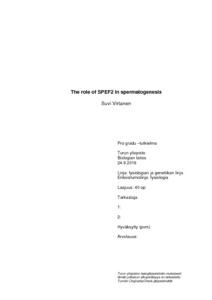 avoin
Turun yliopisto
05.12.2017
Julkaisun pysyvä osoite on:
http://urn.fi/URN:NBN:fi-fe2017120555275
Tiivistelmä
Correct sperm head shaping and tail assembly are important for male fertility. A deleterious mutation in Sperm flagellar protein 2 (Spef2) gene (also known as Kpl2) has been implicated to disrupt the sperm tail formation in Finnish Yorkshire pigs and big giant head (bgh) mice. SPEF2 has been postulated to have a role in intraflagellar transport (IFT) and has been shown to interact with IFT20, an IFT complex B protein. In this study, a novel conditional male germ cell specific knock-out mouse model (Spef2 cKO) was used to study the role of SPEF2 in spermatogenesis. The aim of the study was to characterize the phenotype of the Spef2 cKO mouse model and test the functionality of novel anti-SPEF2 antibodies. The phenotyping was carried out with histological and immunofluorescent stainings. Novel anti-SPEF2 antibodies were evaluated with immunofluorescence and western blot methods. In addition to defective tail formation, the loss of functional SPEF2 seems to cause defective manchette clearance resulting in club-shaped sperm heads. Therefore, SPEF2 may participate in intramanchette transport (IMT). In addition, Spef2 cKO mice were shown to express multiple gamma-tubulin-positive signals from the basal bodies indicating a possible basal body -defect. An anti-SPEF2 antibody against the KAD domain appeared to function on western blot and drying down samples where it was shown to localize in the basal body and midpiece of sperm tail during the late spermiogenesis.