Corporate Entrepreneurship in Healthcare Organizations : An explorative study of employees' corporate entrepreneurial behavior, job satisfaction and turnover intention
Maijala, Annu (2017-12-12)
---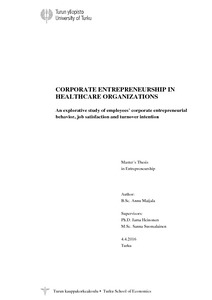 avoin
Turun yliopisto
12.12.2017
Julkaisun pysyvä osoite on:
https://urn.fi/URN:NBN:fi-fe2017121255758
Tiivistelmä
The Finnish healthcare industry is currently facing significant challenges due to economic crises, aging population and major structural reforms, which have resulted in decreased job satisfaction and increased levels of turnover. This proposes that healthcare organizations need to come up with new, creative means to tackle these issues. Several researchers have argued that corporate entrepreneurship may be the necessary means to achieve this. As previous research has mainly focused on examining this concept from organizational perspective, this study looks at how it occurs on the level of individual employees. The purpose of this study is to examine how corporate entrepreneurship is manifested in individual behavior, and how this type of behavior is associated with the individual's job satisfaction and turnover intention. Additionally, this study will examine the differences in corporate entrepreneurial behavior between private and public sector organizations, as previous research suggests that these two may be characterized differently.

Data was collected with the help of a literature review as well as a survey study, which was sent out to a number of employees of four different healthcare organizations, out of which three were public and one was a private sector organization. Six distinct behavioral characteristics were recognized in previous research, which make up the measure for corporate entrepreneurial behavior. Principal components were formed from the different areas of the survey (corporate entrepreneurial behavior, job satisfaction, turnover intention), after which the association of these components were examined with linear regression analysis, which proved that corporate entrepreneurial behavior is positively correlated with both job satisfaction and intention to leave the organization. Differences between sectors were analyzed with analysis of variance and cross tabulation analysis, but neither of these suggested that any significant differences would occur.

These results suggest that employees who behave entrepreneurially tend to be more satisfied with their jobs, but also consider leaving their current organizations more often than others. This may be due to the fact that healthcare organizations are not fertile for entrepreneurial behavior, which will drive entrepreneurial individuals looking for employers who may be more supportive of this type of behavior. With growing levels of dissatisfaction as well as little room for entrepreneurial behavior, the studied organizations may actually be in the process of losing those employees who have the ability and desire to behave in such manner, and who could very well be those who will eventually come up with solutions for the major challenges that these organizations are facing.