Key factors in U.S. Government support of business internationalization in Finland : Case: U.S. Embassy in Helsinki
Garvey, Bernard (2018-01-03)
---
Key factors in U.S. Government support of business internationalization in Finland : Case: U.S. Embassy in Helsinki
(03.01.2018)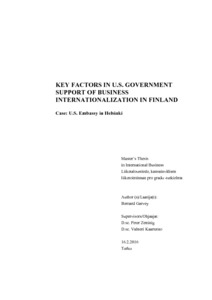 Turun yliopisto
avoin
Julkaisun pysyvä osoite on:
https://urn.fi/URN:NBN:fi-fe201801031046
Tiivistelmä
This study discusses the importance of government intervention for companies and the expansion of national innovation systems. The purpose of the study is to examine the impact which the U.S. Embassy in Helsinki can have on Finnish businesses through their business support programs and events. The embassy has shifted focus in recent years with the creation of an innovation center and increased business services. The study has sub-objectives to discover the critical factors for producing impact, host and home based factor interaction, and effects produced by these initiatives.

The theoretical background of the study consists of literature relating to the concepts of national innovation systems and government intervention. The empirical research conduct for this study is based on interviews with experts from the environment surrounding the U.S. Embassy in Helsinki, Finland and participation in embassy events. The data was collected between March 2014 and September 2015. Seven interviews were conducted; five with representatives of the U.S. Embassy and two with related organizations. Thematic analysis was used to categorize and interpret interview and observation data. The use of an impact radar was implemented as a basis for analysis.

This study finds that the internationalization of national innovation systems provides interesting opportunities and challenges for national governments. The opportunity to provide services to foreign companies by an embassy in a stable environment opens the possibility to create positive notice and relations with the host country. The increased connections and inputs to the national innovation system of the home country have the potential to increase knowledge absorption and create positive growth. The most effective way for governments to encourage businesses is to create incentives and reduce barriers. The services are best aimed at small to medium sized companies in the early stages of development.

The findings of this report suggest that the most critical factors for producing impact on companies are the ability to disseminate information effectively, the ability to create a positive image of the country, the ability to foster effective networks between the two countries, and the ability to facilitate the internationalization of companies. In the best cases, the embassy is able to create incentives to internationalize to the United States and reduce barriers which are encountered by companies.

Future research is necessary to fully understand the impact of business services provided by an embassy can have on the political and economic relations of countries, and on particular industry sectors. The institutional setting provided by the embassy's focus on business relations provides a rich environment for further study in a number of areas.