Diffusion of innovations in a smart city context : Facilitation of innovation-oriented smart city development in Kalasatama
Tuominen, Emilia (2018-05-02)
---
Diffusion of innovations in a smart city context : Facilitation of innovation-oriented smart city development in Kalasatama
(02.05.2018)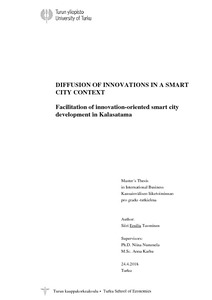 Turun yliopisto
avoin
Julkaisun pysyvä osoite on:
https://urn.fi/URN:NBN:fi-fe2018050219296
Tiivistelmä
Increased urbanisation has raised various challenges which affect the economic and environmental sustainability of cities around the world. The concept of smart cities has emerged as an urban development model focusing on finding solutions to these challenges. Smart cities are often characterised by the utilisation of ICT and focus on issues such as creativity, innovation, and democratic participation processes which are expected to contribute to the creation of cities that foster sustainability, innovations, citizen-driven and citizen-centric governance, and business-led urban development. Innovations are often viewed as key ingredients of smart cities. However, while cities as environments can be viewed as advantageous platforms for innovations to flourish, the existing infrastructure, resources, and governance structures of cities can also hinder innovation-based smart city development.

This thesis focuses on the ways the diffusion of innovations, i.e. the spreading of innovations, can be facilitated in the context of smart city development. Within this framework, the thesis explores the factors influencing the diffusion of smart city innovations and the role of cities as actors and stakeholders in smart city development. The thesis discusses the relevant literature and existing research on smart cities and diffusion of innovations. An empirical study is conducted to explore smart city development and innovation diffusion in the Kalasatama area in Helsinki. Qualitative data on smart city development, diffusion of innovations in smart cities, and the roles of cities in innovation diffusion is collected by the means of semi-structured interviews with Kalasatama stakeholders.

Findings of the study conclude that innovations are an integral part of smart city development. However, their adoption and diffusion are influenced by various facilitating and hindering factors, many of which are recognised in innovation diffusion theories. Adoption and diffusion of smart city innovations can be facilitated by innovation co-development, communication, and authority-based innovation decisions. Cities as actors can promote innovation diffusion and smart city development by procuring innovations, acting as enablers providing opportunities and resources needed for innovation development and diffusion, and by facilitating communication and cooperation among different stakeholders. Change should be accepted as a key part of smart city development, and city organisations' commitment to change is crucial to ensure the continuity of smart city development. City organisations should also utilise smaller and specialised entities in the coordination of such development. Smart city coordination needs to focus on supporting both business-led and bottom-up development approaches.