Encountering Multiple Futures : Finnish survivalism as an anticipatory approach
Parkkinen, Marjukka (2018-10-08)
---
Encountering Multiple Futures : Finnish survivalism as an anticipatory approach
(08.10.2018)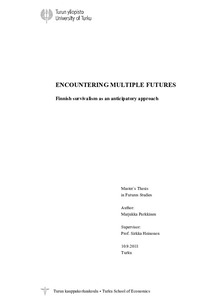 Julkaisu on tekijänoikeussäännösten alainen. Teosta voi lukea ja tulostaa henkilökohtaista käyttöä varten. Käyttö kaupallisiin tarkoituksiin on kielletty.

avoin
Julkaisun pysyvä osoite on:
https://urn.fi/URN:NBN:fi-fe2018101038041
Tiivistelmä
Surviving is a fundamental question and a question concerning futures. An essential part of survival is the anticipation of and preparation for the future. This Master's thesis examines the ways in which Finnish survivalists encounter futures and uncertainties. Survivalism is a cultural movement and a lifestyle that prepares for different kinds of disasters or a societal collapse. The main aim of this thesis is to examine survivalist encounter with futures. The research objective is two-fold. Firstly, to examine Finnish present-day survivalism as a futures-oriented practice and lifestyle, and secondly, discuss it as an anticipatory approach.
The research material consists of different types of media texts: anonymous user-submitted messages on the Finnish survivalist web forum survivalismi.com, as well as newspaper articles, a documentary television film and a radio interview all addressing survivalism in Finland. The data was analysed with qualitative thematic text analysis. Futures studies method Causal Layered Analysis (CLA) provided an analytical framework of four layers of depth to investigate survivalism as a futures-oriented practice.
Based on the analysis, despite being multi-faceted, the Finnish survivalist encounter with futures is negotiated through three main framings. Firstly, in practice, survivalist approach moves between speculative futures and the material present moment. Secondly, the factors that motivate preparedness vary between mundane and personal harms as well as general and global disaster scenarios. Thirdly, the common survivalist worldview balances between privacy and norm-critical self-sufficiency as well as sharing and communality. In addition, deeper assumptions about futures and surviving were examined. The results indicate that survivalists are free to define the threats they prepare for. Furthermore, the futures imagined vary in their temporality. Beyond the multiplicity of threat futures waits the future where one has survived: the survival future. Despite the appreciation towards nature, survivalists see the collapse inevitable and do not consider that they can influence the environmental degradation.
In conclusion, survivalism as an anticipatory approach deploys all different types of explicit anticipation, each with their specific way of using the future. As the objective of surviving involves multiple smaller goals, the constant creation of new anticipations is innate to survivalists. The simulation of futures as part of preparedness challenges the idea of anticipation as a way to imagine actions, which can only be put to the test once the future occurs. Finally, it was proposed that survivalism aspires to resilience. Yet, the survivalist attraction towards danger corroborates the necessity to critically examine the concept of resilience.