Errors and Corrections : Early Modern English Errata Lists in 1529–1700 and Their Connection to Prescriptivism
Repo, Liina (2018-10-29)
---
Errors and Corrections : Early Modern English Errata Lists in 1529–1700 and Their Connection to Prescriptivism
(29.10.2018)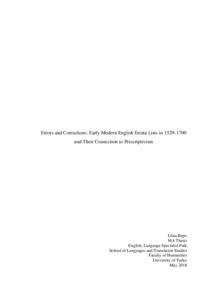 Turun yliopisto
avoin
Julkaisun pysyvä osoite on:
https://urn.fi/URN:NBN:fi-fe2018102938974
Tiivistelmä
This thesis concentrates on early modern English (ca. 1500–1700) errata lists and prescriptivism. Errata lists refer to lists of corrections to a specific printed book or document. Early modern errata lists were used to corrected errors that were noticed after the printing of a book was completed. The second major theme besides errata lists is linguistic prescriptivism, which refers to an ideology which requires something to be said or written the correct way.
The aim of this thesis is to study the characteristics of the early modern errata lists and to determine whether there is a connection between the errata lists and prescriptivism, that is, do the errata lists display prescriptivism. The material of this study consists of 80 English language books and their errata lists from 1529 to 1700, ten from every 25 years. From this material, seven different aspects were studied in order to determine some characteristics of the errata lists and their connection to prescriptivism: 1) the variety of books with errata lists, 2) the physical placement, 3) the headings and 4) the layout of the errata lists, 5) the average frequency of errors in the books, 6) types of individual errors, as well as 7) types of prescriptive corrections.
The inspection of these aspects revealed that errata lists are a heterogenous group that still share some common characteristics. The errata lists appear in various different kinds of works but are located either in the front or back matter of the book. The back matter was the most common location for the errata lists in every studied year, except in 1700. The errata lists exhibit two common patterns of headings, Errata and Faults escaped out of which the latter was more common between 1529 and 1600, but disappears from use after 1600 in this data. The errata lists can also be categorised by their layouts into horizontal lists, vertical lists and tables. Overall, the horizontal list layout was the most common, and after the year 1600, vertical lists disappear and tables become less common. The frequency of errors in the books varied greatly from 0.01 to 1.07 errors per page, on average. The errors in the errata lists were grouped into four classes, omission, addition, substitution and transposition, based on whether the changes appeared in character level, word level or above word level. The inspection of prescriptive corrections revealed two types of corrections that could be said to be prescriptive: corrections to orthography and grammar. This inspection supported the idea of errata lists being prescriptive. Since errata lists are a way to rectify errors, one of the purposes of them can be said to be similar to other prescriptive works that want to promote a certain kind of language use. This thesis provides a basis for future research on errata lists, as they have not been systematically studied yet.