Music industry survivors : Finnish independent record companies' international opportunity recognition
Bronstein, Sara (2018-10-29)
---
Music industry survivors : Finnish independent record companies' international opportunity recognition
(29.10.2018)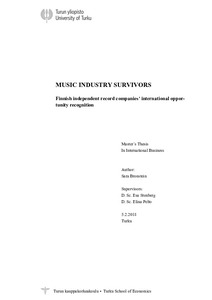 Turun yliopisto. Turun kauppakorkeakoulu
avoin
Julkaisun pysyvä osoite on:
https://urn.fi/URN:NBN:fi-fe2018102938986
Tiivistelmä
Small and medium-sized companies represent the vast majority of all businesses globally and in terms of economic growth enablers they are justly intrigued by researchers. The growth and internationalization of SMEs through the recognition of international opportunities is of interest in recent research and consequently in this study. With past and ongoing significant changes in the music industry power equilibrium, the rise of small independent record labels is consequently a subject to be placed under scrutiny. The research question is How do Finnish independent record labels internationalise in the newly changed music industry environment? The research question is approached building on the existing theory of opportunity recognition in internationalisation.
As the theoretical background is fairly recently formulated, a qualitative approach was selected to gain deeper understanding of the phenomenon in question. Two case companies representing Finnish independent record labels with international operations were selected for interviewing. The factors and changes leading to the music industry's present state were examined through industry yearly reports on trends and revenue creation to establish a background. Drastic changes in revenue creation were discovered with the decline of physical record sales and the rise in streaming and digital sales revenue. Also of interest is the industry's restructuring to two opposite camps: three major labels versus independent labels. It was discovered in accordance with the theoretical implications that entrepreneurial alertness, systematic search, prior knowledge, networks and personal traits all contributed to international opportunity recognition. Their interrelatedness was imminent and networks were highlighted as the most relevant enabler of international opportunity recognition in both domestic and foreign markets. As the industry is based on relationships both business and personal, it is only natural that factors such as knowledge and entrepreneurial alertness are created through these networks. Entrepreneurial alertness helped recognise international opportunities not only through networks but also through activeness in staying up to date with industry changes, for example technological changes were embraced.
The study provides an impression of the music industry's present state, the ways in which international opportunities are recognised and especially the potential within for SMEs of the industry: independent record labels. Finnish independent record labels' internationalisation is found to build on prior knowledge and knowledge gained through networks, which were found incremental in internationalisation. Evaluation of opportunities recognised is most pressing for further studies.