THE INTEGRATION OF PROCESS MINING AND LEAN SIX SIGMA : With a case study on the improvement of an accounting reporting process
Zhong, Wei (2018-12-20)
---
THE INTEGRATION OF PROCESS MINING AND LEAN SIX SIGMA : With a case study on the improvement of an accounting reporting process
(20.12.2018)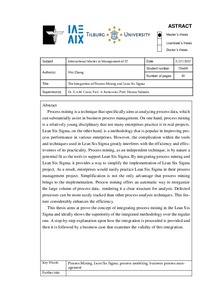 Turun yliopisto. Turun kauppakorkeakoulu
avoin
Julkaisun pysyvä osoite on:
https://urn.fi/URN:NBN:fi-fe2018122051423
Tiivistelmä
Process mining is a technique that specifically aims at analyzing process data, which can substantially assist in business process management. On one hand, process mining is a relatively young disciplinary that not many enterprises practice it in real projects. Lean Six Sigma, on the other hand, is a methodology that is popular in improving pro-cess performance in various enterprises. However, the complication within the tools and techniques used in Lean Six Sigma greatly interferes with the efficiency and effec-tiveness of its practicality. Process mining, as an independent technique, is by nature a potential fit as the tools to support Lean Six Sigma. By integrating process mining and Lean Six Sigma, it provides a way to simplify the implementation of Lean Six Sigma project. As a result, enterprises would easily practice Lean Six Sigma in their process management project. Simplification is not the only advantage that process mining brings to the implementation. Process mining offers an automatic way to reorganize the large volume of process data, rendering it a clear structure for analysis. Defected processes can be more easily tracked than other process analysis techniques. This fea-ture considerably enhances the efficiency.
This thesis aims at prove the concept of integrating process mining in the Lean Six Sigma and ideally shows the superiority of the integrated methodology over the regular one. A step-by-step explanation upon how the integration is proceeded is provided and then it is followed by a business case that examines the validity of this integration.