Magia : robust automated modeling and image processing platform for PET neuroinformatics
Santavirta, Severi (2018-11-07)
---
Magia : robust automated modeling and image processing platform for PET neuroinformatics
(07.11.2018)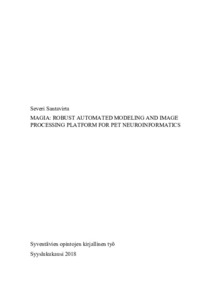 Julkaisu on tekijänoikeussäännösten alainen. Teosta voi lukea ja tulostaa henkilökohtaista käyttöä varten. Käyttö kaupallisiin tarkoituksiin on kielletty.

avoin
Julkaisun pysyvä osoite on:
https://urn.fi/URN:NBN:fi-fe201902144923
Tiivistelmä
Generating uptake estimates from PET images requires several steps: frame-to-frame alignment, coregistration with MRI, delineation of reference region, kinetic modelling, spatial normalization and smoothing. Here we introduce Magia that can automatically perform each of these steps. Magia runs on MATLAB and processes and stores PET data in a standardized manner, facilitating neuroinformatics approaches also for PET imaging. Magia produces uptake estimates at voxel and ROI level. Given specified metadata, Magia processes studies independent of each other using one of eight analysis branches. For reference region studies, Magia automatically generates the reference regions using FreeSurfer. Currently, Magia supports SRTM, SUV-ratio, Patlak and FUR analyses. Other models can be added based on demand. Magia is free to use and can be downloaded from GitHub.

Magia can generate tracer specific reference regions automatically from MRI using FreeSurfer. We validated automatic reference region generation for four PET tracers: [11C]carfentanil, [11C]raclopride, [11C]MADAM and [11C]PiB. For each tracer we chose 30 subjects from our previous projects. Five neuroscientists delineated manually tracer specific reference regions according to written and visual instructions. In the validation process we compared the new automatic method to the traditional manual method. Comparison of outcome measures (BPND or SUVR) between the methods was our primary validation metric. The validation process also included the comparison of anatomical similarities, time-activity curves and radioactivity concentrations of reference regions between the methods.

No significant differences in outcome measures were observed for [11C]carfentanil and [11C]PiB. For [11C]raclopride and [11C]MADAM Magia derived outcome measures were positively biased compared to manual measures. The bias correlated negatively with BPND and in high-binding areas the bias was under 10%.

Magia generates reliable reference regions for these four PET tracers. Magia has robust scalability and together with centralized database (Aivo) future bigdata analyses will become possible. Limitations: Magia processes PET studies independently and it is therefore not an optimal tool for analysing challenge studies. Also, if analysis requires plasma input it must still be generated elsewhere prior to analysis with Magia.