Mass and radius constraints for neutron stars from pulse shape modeling
Salmi, Tuomo (2016-11)
---
Mass and radius constraints for neutron stars from pulse shape modeling
(11 / 2016)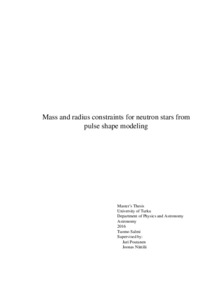 avoin
Julkaisun pysyvä osoite on:
https://urn.fi/URN:NBN:fi-fe201903158990
Tiivistelmä
Neutron stars are the most compact directly observable objects. The matter inside a neutron star is at supranuclear densities. The equation of state (EOS) of neutron stars describes the properties of such dense matter. Separation between numerous theoretical EOSs is possible if we are able to constrain the possible masses and radii of neutron stars from observations.

In this thesis we present one method that can be used to constrain masses and radii of neutron stars. The method is suitable for accreting millisecond pulsars, where a rapidly rotating neutron star, called a millisecond pulsar, accretes matter from a relatively low mass companion star, via an accretion disc, onto the magnetic poles of the neutron star. Because of the accretion, we observe radiation from two "hot spots" on the neutron star surface. This radiation is pulsating coherently at the spinning frequency of the neutron star. The exact shape of the pulses can be modeled with a theoretical model that takes into account the general and special relativistic effects via "Schwarzschild-Doppler" approximation and the oblate shape of the star caused by the fast rotation. The details of this model are discussed.

The pulse profiles carry information about the mass and radius of a neutron star since e.g., the light bending and thus pulse shape depends strongly on the compactness of the star. Also many other physical parameters and observing angles affect the light curves. Therefore, we use Bayesian analysis and a novel Monte Carlo sampling method, called "ensemble sampler", to obtain probability distributions for the different parameters, especially for the mass and the radius. The ensemble sampler has shown to overcome many difficulties concerning the traditional Metropolis-Hastings sampler.

We have also generated synthetic data to test our method and fitted the pulse profiles to these data. The results of our samplings, using these synthetic data, show that obtaining new constraints for radius and mass is not a very easy task. However, according to our study, prior information obtained from polarization measurements may be used the get significantly tighter constraints.