Geochemistry, age and structural character of the Au-hosting Uunimäki gabbro, SW Finland
Leskelä, Tuomas (2019-03-18)
---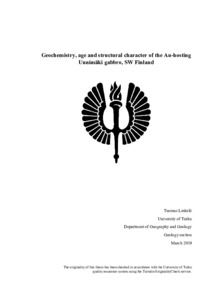 avoin
18.03.2019
Julkaisu on tekijänoikeussäännösten alainen. Teosta voi lukea ja tulostaa henkilökohtaista käyttöä varten. Käyttö kaupallisiin tarkoituksiin on kielletty.

Julkaisun pysyvä osoite on:
http://urn.fi/URN:NBN:fi-fe2019032910511
Tiivistelmä
The western Häme Belt hosts several gold deposits, including the Uunimäki deposit, which is hosted by a gabbro. There are three main goals in this study: (i) age determination of the Uunimäki gabbro, (ii) geochemical classification of the gabbro, as well as comparison to other gold-hosting rocks in the western Häme Belt, (iii) structural characterisation of the Uunimäki area and its surroundings.

The age determination was performed with zircon U-Pb geochronology and yielded a concordia age of 1891 ± 5 Ma. This makes the Uunimäki gabbro one of the oldest plutonic rocks in the Häme Belt.

Geochemically, the Uunimäki gabbro is more mafic when compared to the two other gold-hosting intrusions in the area, the Jokisivu and Palokallio diorites. Major element geochemistry suggests that the Uunimäki gabbro is simply less fractionated. However, trace element geochemistry reveals that the gabbro has not formed during arc-type magmatism as other plutonic rocks in the Häme Belt. The gabbro has several characteristics atypical for arc-type rocks: (i) it lacks the typical negative Ta-Nb anomaly compared to N-MORB compositions, (ii) it is not enriched in large ion lithophile elements, (iii) the REE-pattern is relatively unfractionated.

New field observations and structural measurements were collected from the western Häme Belt, and were used with geophysical maps to divide the study area into structural domains. The Uunimäki gabbro is located at the junction of three of these structural domains: (i) steep NE-plunging folds immediately to the south and northwest, (ii) an ENE-WSW-trending shear zone immediately to the north and northeast, (iii) a large N-S-trending shear zone to the west. The gabbro displays three distinct structural orientations, and has undergone deformation in several stages in both ductile and brittle regimes. The NW-SE-trending structures that are dominant in the Uunimäki gabbro are interpreted to have formed during re-activation of weakness zones caused by shearing along the ENE-WSW-trending shear zones.

The Uunimäki gabbro is interpreted to represent the primitive arc that formed in the early stages of the development of the Häme Belt, based on the age determination and geochemical signatures indicative of primitive magmatism with respect to its surroundings. The gabbro underwent deformation in several stages, including opening of NW-SE-trending fractures into which gold was precipitated. The fractures were later re-activated as shear zones that can be observed on the surface today.