Classification of small renal masses based on CT images and machine learning algorithms
Sun, Heyang (2019-05-10)
---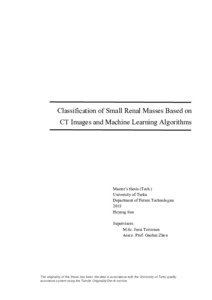 avoin
10.05.2019
Julkaisu on tekijänoikeussäännösten alainen. Teosta voi lukea ja tulostaa henkilökohtaista käyttöä varten. Käyttö kaupallisiin tarkoituksiin on kielletty.

Julkaisun pysyvä osoite on:
http://urn.fi/URN:NBN:fi-fe2019052116460
Tiivistelmä
Kidney tumor is among the leading causes of tumors and deaths worldwide. In all kidney tumor cases, an increasing number of small renal masses (SRMs) with a size smaller than 4 cm have been detected and they are becoming a typical problem for radiologists and surgeons. Most SRMs are either of renal angiomyolipoma (AML) or renal cell carcinoma (RCC), the former being benign and the latter being malignant. The malignant ones can be further classified into three types, clear cell renal cell carcinoma (ccRCC), papillary renal cell carcinoma (pRCC), and chromophobe renal cell carcinoma (chRCC). Different kind of renal tumor requires varied treatment and management.

In recent years, four-phase computer tomography (CT) has become the standard approach for kidney tumor examination. In most circumstances, classic AMLs and RCCs can be classified by a radiologist reading the CT images. While fat poor angiomyolipomas (fp-AML) set barriers to this classification method due to the loss of typical diagnosis characteristics. Radiologists are also incapable of differentiating malignant tumors. For now, SRM classification is mainly performed by pathological examination, which is time and resource consuming.

Machine learning and one of its branch, deep learning, has been extended to medical image processing field. In this paper, support vector machine (SVM) and convolutional neural network (CNN) were respectively used to build models with the input of one of the last three phases of CT images and the combination of them. For the establishment of each model, at least 20% of overall patient cases were picked out randomly as independent testing subset and the rest undertook 10-fold cross validation for an objective and reliable evaluation of the models.

It turned out that SVM algorithm using a linear kernel with phase 2 (corticomedullary) images as input acquired an accuracy of 0.93 and a sensitivity of 0.97 on patient's tumor type prediction of fp-AML/RCC classification. CNN algorithm, consisting of 12 layers including 4 convolutional layers each followed by a max-pooling layer, one flatten layer, and three densely connected layers, with the help of activation functions, dropout strategy, and stochastic gradient descent (SGD) optimization method, achieved an accuracy of 0.85 on pRCC/chRCC/ccRCC categorization with phase 2 images as input. Images of corticomedullary stage were proved to be eligible for classifiers. This can be seen as a breakthrough since it is the first successful application of deep learning networks in renal tumor classification. Meanwhile, these two models were both balanced over different classes and they together provide a comprehensive solution to SRM classification.

Given these findings, the two models can be a preliminary step for machine learning and especially deep learning algorithms to assist, improve, and finally revolutionize the conventional clinical decision making process to guide appropriate management and treatment.