Breeding success and survival in relation to major effect loci affecting the age at maturation in Teno river Atlantic salmon (Salmo salar)
Laine, Jan (2019-05-06)
---
Breeding success and survival in relation to major effect loci affecting the age at maturation in Teno river Atlantic salmon (Salmo salar)
(06.05.2019)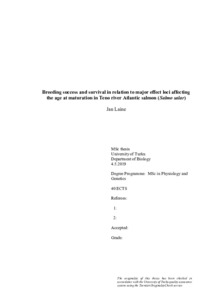 Julkaisu on tekijänoikeussäännösten alainen. Teosta voi lukea ja tulostaa henkilökohtaista käyttöä varten. Käyttö kaupallisiin tarkoituksiin on kielletty.

avoin
Julkaisun pysyvä osoite on:
https://urn.fi/URN:NBN:fi-fe2019052417014
Tiivistelmä
There is an age at maturity related trade-off between breeding success and survival in Atlantic salmon, and sex specific patterns exist in the expression of this life-history trait. A recent study identified three candidate genes, vgll3, akap11 and six6, which had a major effect on this trait. Sex-dependent dominance was also observed in the gene vgll3 with the strongest association to sea-age (years in ocean prior to maturation). This was assumed to be an adaptation to sexual conflict resulting from different optimal age at maturity between the sexes. However, direct effects on fitness were not investigated previously. Therefore, the aim of this study was to fill some of these knowledge gaps by studying sea-age candidate gene related breeding success and survival.
A dataset of 167 single nucleotide polymorphism (SNP) loci interspersed through the salmon genome including loci tightly linked with the sea-age candidate genes was gen-erated for Teno river Atlantic salmon by sequencing DNA from one adult cohort and a subsequent cohort of juveniles on four consecutive years. Breeding success was studied by observing the trans-generational change in the sea-age candidate gene genotype fre-quencies and vgll3 genotype related mate choice, and survival by observing the change of genotype frequencies in freshwater juveniles.
A significant deviation was observed between adult and juvenile vgll3 and six6 geno-type frequencies. The homozygous vgll3 genotype promoting later maturation in both sexes was significantly higher in juveniles than in adults, presumably due to better breeding success of males with this genotype. Homozygous six6 genotype with oppos-ing effect was similarly enriched. No vgll3 related mate choice nor change in genotype frequencies among juveniles was observed. These results show that these two genes af-fect the breeding success and likely marine survival, but further studies are needed in order to assess the lifelong fitness effects of different genotypes.