Identifying the issues concerning zeta potential measurements of polymer nanoparticles
Taiseer, Abrar (2019-05-13)
---
Identifying the issues concerning zeta potential measurements of polymer nanoparticles
(13.05.2019)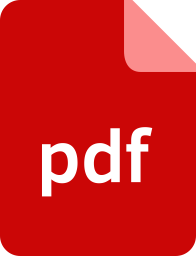 Julkaisu on tekijänoikeussäännösten alainen. Teosta voi lukea ja tulostaa henkilökohtaista käyttöä varten. Käyttö kaupallisiin tarkoituksiin on kielletty.

suljettu
Julkaisun pysyvä osoite on:
https://urn.fi/URN:NBN:fi-fe2019061220217
Tiivistelmä
Introduction:
Recent polymeric nanoparticle appraisals, formulation and drug delivery strategies have been showed up with remarkable advancement although scientists are still looking forward to better targeted drug delivery strategy. Nanotechnology and nanoparticles are widely being used to develop precise, efficient drug carriers, and development and delivery strategies. Nanoparticles are being extensively used as a nanocarrier due to its precise and enormous capacity in the field of drug targeting, large surface area, excellent drug uptake capacity by tissues from nanoparticles. Properties of nanoparticle play vital role to overcome traditional challenges of poor drug solubility and absorption. Furthermore, such novel features of nano-drug delivery system can be significantly affected by two major factors such as size and zeta potential of nanoparticles. Zeta potential is the measurement of the effective electric charge on the surface of a nanoparticle. Zeta potential is a major parameter that plays an important role to potentiate physiochemical properties of nano-drugs as well as their effectiveness. Magnitude of the zeta potential provides insight regarding the stability of the nano-formulation. Higher magnitude of zeta potential implies better stability of nanoparticle because of higher electrostatic repulsion between nanoparticles.

Aim and method:
Aim of this study is to identify factors affecting zeta potential of polymer nanoparticles. In the contemporary study, chitosan, PLGA, HPMC HF, spruce lignin polymeric nanoparticles were used. Goals of current study include, characterizing electro kinetic properties of nanoparticles by dynamic light scattering analysis and transmission electron microscopy. Moreover, identifying the effect of pH on zeta potential of polymeric nanoparticle at different pH is an integral part of this study. Microfluidic technology, dynamic light scattering analysis, measurement of zeta potential, measurement of pH, transmission electron microscopy methods were mainly used in this study.

Result and conclusion:
Preliminary results depict, synthesis of PLGA, HPMC HF nanoparticle was promising at 2:10 and 2:20 flow rates with lower concentration of polymers respectively. However, titration of PLGA nanoparticle solution with HEPES buffer shows, remarkable elevation of zeta potential was pronounced along with gradual curtailment of pH. On the other hand, while HPMC HF nanoparticle solutions were being titrated with HEPES buffer, an upward trend of zeta potential elevation along with the gradual descension of pH was very prominent and vice versa. Synthesis of chitosan and spruce lignin nanoparticle was challenging due to their proneness to agglomerate and complex, undefined structure respectively. Results provide an insight regarding factors affecting zeta potential of nanoparticle including pH, concentration of formulation component, size, surface charge, ionic strength, thickness of electrical double layer. Zeta potential can be used as a predictive tool to classify and characterize the entire nanoparticle system. Moreover, fluctuation of pH greatly impacts zeta potential. Hence, zeta potential can substantiallym influence the stability of nanoparticle, targeted drug delivery and bioavailability of nano-formulation.