Governing future urban conduct through the sociotechnical imaginary of the low-carbon city : a comparative case study of carbon reduction plans from Auckland, Copenhagen, New Orleans, and Vancouver
Shaw, Morgan (2019-06-12)
---
Governing future urban conduct through the sociotechnical imaginary of the low-carbon city : a comparative case study of carbon reduction plans from Auckland, Copenhagen, New Orleans, and Vancouver
(12.06.2019)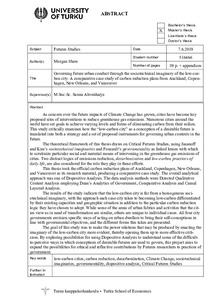 Julkaisu on tekijänoikeussäännösten alainen. Teosta voi lukea ja tulostaa henkilökohtaista käyttöä varten. Käyttö kaupallisiin tarkoituksiin on kielletty.

avoin
Julkaisun pysyvä osoite on:
https://urn.fi/URN:NBN:fi-fe2019061921385
Tiivistelmä
As concern over the future impacts of Climate Change has grown, cities have become key proposed sites of interventions to reduce greenhouse gas emissions. Numerous cities around the world have set goals to achieve varying levels and forms of eliminating carbon from their milieu. This study critically examines how the "low-carbon city" as a conception of a desirable future is translated into both a strategy and a set of proposed instruments for governing urban contexts in the future.
The theoretical framework of this thesis draws on Critical Futures Studies, using Jasanoff and Kim's sociotechnical imaginaries and Foucault's governmentality as linked lenses with which to scrutinize particular social and material means of intervening in the greenhouse gas emissions of cities. Two distinct logics of emissions reduction, decarbonization and low-carbon practices of daily life, are also considered for the role they play in these efforts.
This thesis took the official carbon reduction plans of Auckland, Copenhagen, New Orleans, and Vancouver as its research material, producing a comparative case study. The overall analytical approach was one of Dispositive Analysis. The data analysis methods were Directed Qualitative Con-tent Analysis employing Dean's Analytics of Government, Comparative Analysis and Causal Layered Analysis.
The results of the study indicate that the low-carbon city is far from a homogenous sociotechnical imaginary, with the approach each case city takes to becoming low-carbon differentiated by their existing capacities and geographic situation in addition to the particular carbon reduction logic they have chosen to adopt. While some of the areas of urban fabrics and activities that the cities view as in need of transformation are similar, others are unique to individual cases. All four city governments envision specific ways of acting on urban dwellers to bring their self-conceptions in line with governmental objectives, and the different forms this takes are presented.
The goal of this study was to make the power relations that may be produced by enacting the imaginary of the low-carbon city more evident, thereby opening them up to more effective criticism. By exploring possibilities for using Dispositive Analysis to understand some of the difficult-to-perceive ways in which conceptions of desirable futures are used to govern, this project aims to expand the possibilities for ethical and reflective contributions by Futures researchers to practices of government.