Anarchism, virtue ethics and the question of essentialism
Eskelinen, Matti (2019-08-13)
---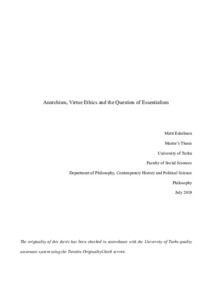 avoin
13.08.2019
Julkaisu on tekijänoikeussäännösten alainen. Teosta voi lukea ja tulostaa henkilökohtaista käyttöä varten. Käyttö kaupallisiin tarkoituksiin on kielletty.

Julkaisun pysyvä osoite on:
http://urn.fi/URN:NBN:fi-fe2019081924659
Tiivistelmä
In this thesis I examine anarchism and virtue ethics and their relationship with each other through the virtue ethics of Alasdair MacIntyre and virtue ethically informed practical anarchism of Benjamin Franks. MacIntyre's now classic book of After Virtue where he presents his influential revival of Aristotelian virtue ethics serves as a route for Franks' effort to explicitly combine the political theory of anarchism with virtue ethics. MacIntyre's theory puts emphasis on practices as the most salient feature of virtue ethics in contrast to other characteristics of Aristotle's virtue ethics and his overall philosophical theory, such as justification of slavery and systematic subordination of women, which are redolent of his metaphysical biology. Defining virtue ethics as practice-oriented and stressing the consistency between means and ends, i.e. prefiguration, of actions enables MacIntyre to offer virtue ethics as a suitable alternative to alleged moral confusion brought by Enlightenment inspired moral philosophies of utilitarianism and deontology. For Franks practice-oriented virtue ethics has considerable amount of resemblance with anarchism's ethical commitment to prefiguration both historically, exemplified by anarchists' disagreement with Marxists during the First International over the use of state apparatus during revolutionary struggle, and contemporarily, as in the anarchist-influenced Occupy Movement. Based on MacIntyre and Franks' theories I come to identify the question of essentialism, i.e. what is the essence of our existence, as difficult for both of them and in more generally for the philosophical traditions of anarchism and virtue ethics. I argue for the implementation of materialism to remedy inadequacies found both in MacIntyre's later era Thomism, and Franks' theoretical weakness for proper justification to the reason why one ought to accept and adopt anarchist position. I also come to claim that materialism, as in drawing focus on the material constitution of our being and environment, offers invaluable resources beyond anarchism and virtue ethics to the general discourse of political and moral philosophy.