Product development using protein isolate produced by pH-shift process from Baltic herring (Clupea harengus membras)
Aitta, Ella (2019-08-27)
---
Product development using protein isolate produced by pH-shift process from Baltic herring (Clupea harengus membras)
(27.08.2019)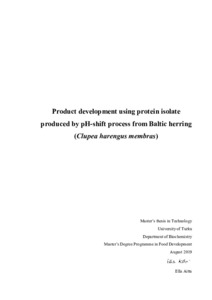 Julkaisu on tekijänoikeussäännösten alainen. Teosta voi lukea ja tulostaa henkilökohtaista käyttöä varten. Käyttö kaupallisiin tarkoituksiin on kielletty.

avoin
Julkaisun pysyvä osoite on:
https://urn.fi/URN:NBN:fi-fe2019090927455
Tiivistelmä
The aim of the study was to produce fish protein isolate using alkaline pH-shift processing and to use the protein isolate in products such as surimi and fish balls. Different pH-values and additives were used in order to find the processing method for the best colour and yield. Protein, lipid and moisture contents of the raw material, produced isolate and the products were determined. Furthermore, the surimi and fish balls were analysed with texture profile analyser and their volatile compounds were determined with head-space solid-phase microextraction combined with gas chromatography and mass spectrometry. Additionally, the colour of surimi from different pH-shift processes was determined by colorimetry. The results were compared to commercial surimi and fish products.

The alkaline pH-shift process using pH-values 11.2 and 5.4 as solubilisation and precipitation values, respectively, resulted in isolate yield of 84% of the raw material and a protein yield of 54%. The isolate contained 7.2-9.6% of protein, 3.7% of lipids and a moisture content of 85.3%. The lipid content of the isolate was relatively high, 25.2% of the dry-weight, making the isolate prone to oxidation. Next, titanium dioxide improved the colour of surimi when added to the paste before cooking However, the pH-shift processes using 11.5 as the solubilisation pH-value, or 6.5 as the precipitation value did not affect the colour of the isolate. In fact, the latter process led to a significantly softer surimi due to increased water content. Additionally, bentonite or activated carbon did not improve the colour of the isolate. More research ought to be done to improve the colour, which is an important aspect concerning the consumer acceptance.

The isolate showed good gelling properties, and the surimi made with it had similar texture profile to a commercial surimi scampi. Moreover, the isolate was successfully used in fish balls in concentrations as high as 50%. The addition of the protein isolate in the fish balls improved their texture without affecting the colour or taste adversely.

The raw material of this study was beheaded and gutted Baltic herring. The use of whole fish or production side-streams would make the process more environmentally friendly and economical. Thus, future studies should focus on the utilisation of whole fish. Additionally, more studies need to be conducted to improve the colour, reduce the lipid content and to increase the protein yield.