Limited evidence for a negative effect of heavy metal pollution on the egg characteristics and reproductive success of great tits (Parus major)
Pajunen, Piia (2018-04-26)
---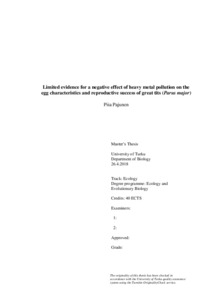 avoin
Turun yliopisto
26.04.2018
Julkaisun pysyvä osoite on:
http://urn.fi/URN:NBN:fi-fe2019092329294
Tiivistelmä
Heavy metals are known to have negative effects on the reproduction, egg formation and offspring development of birds. This study aimed to investigate whether heavy metals affect egg mass, eggshell mass and thickness, pigment patterns, immune defence (lysozyme enzyme) and thyroid hormones (triiodothyronine and thyroxine) in eggs of great tits (Parus major) and fledging probability in four pollutes areas. Lysozyme and thyroid hormones are essential for the development of avian offspring, and there is no previous knowledge of how heavy metals affect their concentration in eggs.

The material was collected in spring 2016 from Finland, Belgium, Hungary and Portugal. Eggs were collected from a polluted zone near a pollution source and further away from it (unpolluted zone) in each country. The eggs were dissected and thyroid hormone and lysozyme concentrations were analysed in a laboratory. Heavy metal (As, Cd, Cu, Ni, Pb) concentrations were analysed from nestlings' faecal samples. The size, intensity and distribution of pigment spots were estimated visually. The effect of zone (polluted/unpolluted) and heavy metals on the egg characteristics and fledging probability were tested with statistical analyses.

No association was found between zone or heavy metals and the egg characteristics or fledging probability. The highest heavy metal concentrations were in the polluted zones of Finland and Belgium. In Hungary, eggshell pigmentation was more aggregated in the polluted compared to the unpolluted zone. The proportion of failed nests varied between countries.

The results indicate that heavy metal pollution has decreased in the study areas and is not an important factor for the studied egg characteristics and fledging probability. It is uncertain to what extent heavy metal pollution contributed to the failure of nests, as many other factors, like food availability and egg quality, may have had a bigger impact. Due to the decreased level of pollution and annual variation in environmental conditions and breeding success, it is recommended that the effects of heavy metals especially on pigment patterns, thyroid hormones and lysozyme are further studied with long-term studies on other heavily polluted areas.