Constraining supernova progenitors with integral field spectroscopy
Kravtsov, Timo (2019-11-03)
---
Constraining supernova progenitors with integral field spectroscopy
(03.11.2019)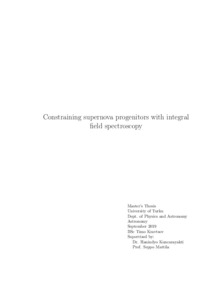 Julkaisu on tekijänoikeussäännösten alainen. Teosta voi lukea ja tulostaa henkilökohtaista käyttöä varten. Käyttö kaupallisiin tarkoituksiin on kielletty.

avoin
Julkaisun pysyvä osoite on:
https://urn.fi/URN:NBN:fi-fe2019111137629
Tiivistelmä
Core-collapse supernovae (CCSNe) are an important part of the stellar evolution of massive stars. Certain types of supernova (SN) explosions are believed to originate from similar types of stars, but linking a SN type directly to a progenitor star has proven to be a challenge. A powerful way to study SN progenitors is to directly observe the star before the explosion, but only a handful of such stars have been observed to date.
Stripped-envelope SNe includes types Ib, Ic, IIb and Ibn. Type Ibn supernovae are not well understood. The spectral evolution shows the SN ejecta interacting with helium-rich circumstellar material (CSM). The progenitors are thought to be Wolf-Rayet stars that have lost part of their helium envelope through strong stellar winds or binary systems where the CSM is produced through binary interaction. Similarly type IIb SNe show evidence of depleted hydrogen envelopes, but still retaining small amount of hydrogen on the surface layer. Previously, some evidence has been presented that the progenitors of type Ib and type Ic SNe could be classical Wolf-Rayet stars or lower mass stars in binary systems, but more studies are needed to understand them.
In this thesis, I have studied the properties of the environments of several SNe, including a type Ibn, a type IIb, a type Ia and one unknown transient, and their host galaxy NGC 2466 using VLT/MUSE, an integral field spectrograph. Properties such as supernova environment's age and metallicity were measured and compared to the measurements of the whole galaxy using statistical methods. The age was inferred by fitting spectra of the supernova environments with simple stellar population models and by comparing the observed emission lines to photoionisation models. The results suggest an interacting binary system to be the most likely progenitor for both of the studied stripped-envelope supernovae.