The role of the GABAA receptor δ subunit domains on agonist binding kinetics
Eriksson, Minna (2019-11-27)
---
The role of the GABAA receptor δ subunit domains on agonist binding kinetics
(27.11.2019)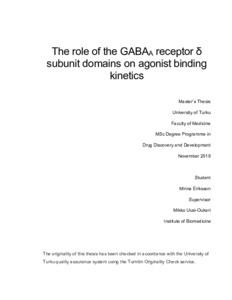 Julkaisu on tekijänoikeussäännösten alainen. Teosta voi lukea ja tulostaa henkilökohtaista käyttöä varten. Käyttö kaupallisiin tarkoituksiin on kielletty.

avoin
Julkaisun pysyvä osoite on:
https://urn.fi/URN:NBN:fi-fe202001304030
Tiivistelmä
The GABAA receptor is a ligand-gated ion channel that conveys inhibitory signals in neurons. It is a pentameric receptor assembled from combinations of 19 subunits, however, most receptors are composed of α-, β- and γ-subunits. The properties of the receptor depend on its composition. A typical receptor contains αxβxγ2 and is located in the synapse. The focus of this project is the α6β3δ receptor which is extrasynaptic and provides a basal inhibitory tone rather than the rapid phasic action of its γ2-containing cousin. The main property of the δ-type is a high affinity for low concentrations of GABA. The differences between receptors containing δ- and γ2-subunits were explored by creating chimeric constructs containing sequences from both subunits using polymerase chain reactionmediated site-directed mutagenesis. The properties of the chimaera-containing receptor were compared to those of the wild type δ-containing receptor by measuring the binding kinetics of the GABAA agonist 3H-muscimol. The final construct contained δ sequences with the exception of the amino acids between S238-V264 taken from the corresponding γ2 sequence. It was found that the chimaera was equivalent to the wild type in terms of both association and dissociation kinetics of 3H-muscimol. This indicates that the critical site for slow binding kinetics is not in the first transmembrane domain even though this site is essential for channel function according to previous studies. Further research mutating the extracellular domains is recommended.