HOW CRM- SYSTEM AFFECT PERFOR- MANCE OF B2B SALES STAFF OF ENTER- PRISE X
Parsonen, Vladi (2020-04-06)
---
HOW CRM- SYSTEM AFFECT PERFOR- MANCE OF B2B SALES STAFF OF ENTER- PRISE X
(06.04.2020)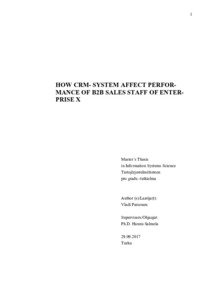 Julkaisu on tekijänoikeussäännösten alainen. Teosta voi lukea ja tulostaa henkilökohtaista käyttöä varten. Käyttö kaupallisiin tarkoituksiin on kielletty.

avoin
Julkaisun pysyvä osoite on:
https://urn.fi/URN:NBN:fi-fe2020042019396
Tiivistelmä
The impact of CRM on organizational performance has been widely researched within various contexts and industries. Such researches have aimed at finding out a truth con- cerning connection of such multiple organizational metrics as efficiency, received amount of customer complaints, level of satisfaction, customer loyalty, perceived value, with power of CRM (Yaghoubi, Asgari, Javadi; 2017). However, there have been only fewer number of researches targeting to identify clear connection between especially perfor- mance of sales staff and presence of CRM- system. As sales is considered to be one of the most important functions in any organization with its ability to generate cash flows, it is natural to investigate ways to improve its efficiency. Additionally, there are barely organizations without CRM nowadays and, according to author's perceptions, CRM and sales usually go hand in hand. Rodriguez and Honeycutt (2011) have also found out that there exists a strong and obvious link between performance of sales and utilization of CRM within organization. Therefore, one can conclude that those two are tightly related to each other. As there are typically people in charge of carrying out sales tasks, it is sensible to make an assumption that CRM affects sales staff and their performance. But in what kind of way? In this research the main target is to identify impact of CRM- systems on perfor- mance of sales staff such account managers, sales trainees and senior sales professionals. The subject was shed light on in previous researches of Rodriguez and Honeycutt (2011) as well as in one by Rodriguez and Yim (2015), but this particular one will provide readers with more details by moving deeper from abstract level to slicing a typical sales process into 5 stages. Impact of CRM on each stage's staff performance will be examinated through conducting series of interviews with sales staff of each stage. The aim of this research is to collect sales staff- based experiences and generate insights on impact of CRM on staff of each of 5 stages of sales process. The described sales process originates from Enterprise X, a firm where the author has been working for certain amount of time. The research will, therefore, introduce a case study of impact of CRM on sales process staff within one pre- selected enterprise. The best way to gather answers was to select such persons for interviews who were in charge of different tasks within sales pipeline: Sales Assistants, Account Managers and Team Managers. Those people had the best insights available on CRM's and sale func- tions' collaboration as their daily jobs included dealing with both. The most of them were author's teammates and colleagues and this impacted choice too: easily approachable and experienced sales professionals have been chosen to fuel the research with relevant data. All the persons asked for interviews accepted the call and interview questions, so this didn't require deeper moderation. More of this will be discussed in Chapter 5.