"Ignooraaminen voi olla iisiä mut miksi avoidaa" – Code-switching and the use of "Finglish" on Twitter
Valkamaa, Marika (2020-03-25)
---
"Ignooraaminen voi olla iisiä mut miksi avoidaa" – Code-switching and the use of "Finglish" on Twitter
(25.03.2020)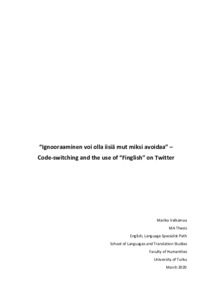 Julkaisu on tekijänoikeussäännösten alainen. Teosta voi lukea ja tulostaa henkilökohtaista käyttöä varten. Käyttö kaupallisiin tarkoituksiin on kielletty.

avoin
Julkaisun pysyvä osoite on:
https://urn.fi/URN:NBN:fi-fe2020050725641
Tiivistelmä
The Internet and social media have changed people's language use, and the effect of English language can be seen in the language use of Finnish people. The aim of this study is to examine written code-switching and the nature of language use of Finnish users on social medium Twitter. Several approaches were utilized. The Matrix Language Frame model (by MyersScotton) was adjusted to be suitable for the present study. Myers-Scotton's approaches were combined with Montes-Alcalá's, Poplack's, and Muysken's ideas. With addressed research questions the goal was to see the types and levels of code-switching on Twitter and explain the possible reasons for code-switching; determine and examine the Matrix Language (dominant), the Embedded Language (subordinate), and the Composite Matrix Language (ambiguous) in intra-sentential CS; and examine the code-switched words' word class and inflection. The data was collected from Finnish twitter accounts and different keywords to find code-switched content were used. The data consisted of 88 tweets and it was used as a micro corpus for this study. All the tweets were from public accounts that are available for anyone. Levels and types of code-switching were presented with tables and various amount of examples. The emphasis in intra-sentential CS was in the Matrix Language, Embedded Language, and Composite Matrix Language which were determined and presented with examples. Besides levels and types, the focus was on the inflection habits of code-switched lexicons and sentences. The two languages' code-switched words' grammatical structures were examined with various amount of examples. The results revealed several cases of code-switching both from English to Finnish and from Finnish to English. Even though all the tweeters are presumably L1 Finnish speakers, tweets with code-switching in both languages were found. However, Finnish was the Matrix Language in the majority of tweets, whereas English was the Embedded Language. Both, different types and levels of code-switching were found. Code-switching patterns occurred mainly consistently and the inflection would mostly follow the Matrix Language's grammar structure. However, findings revealed exceptions to this trend as well. According to the present study, written code-switching on social media is not arbitrary but follows similar patterns than that of spoken code-switching patterns. Further research ideas for the future would be exploring social media platforms and use other approaches, i.e. Conversational Analysis, to understand social interaction online better. Also, the nature of language use could be compared between different social media.