Strategic alliances as a source of competitive advantage in the digital era : How digital platforms and the emerging platform economy promote joint value creation
Vänskä, Outi (2020-05-29)
---
Strategic alliances as a source of competitive advantage in the digital era : How digital platforms and the emerging platform economy promote joint value creation
(29.05.2020)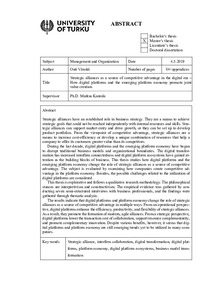 Julkaisu on tekijänoikeussäännösten alainen. Teosta voi lukea ja tulostaa henkilökohtaista käyttöä varten. Käyttö kaupallisiin tarkoituksiin on kielletty.

avoin
Julkaisun pysyvä osoite on:
https://urn.fi/URN:NBN:fi-fe2020062245286
Tiivistelmä
Strategic alliances have an established role in business strategy. They are a means to achieve strategic goals that could not be reached independently with internal resources and skills. Strategic alliances can support market entry and drive growth, or they can be set up to develop product portfolios. From the viewpoint of competitive advantage, strategic alliances are a means to increase cost-efficiency or develop a unique combination of resources that help a company to offer its customers greater value than its competitors.
During the last decade, digital platforms and the emerging platform economy have begun to disrupt traditional business models and organizational boundaries. The digital transformation has increased interfirm connectedness and digital platform ecosystems have gained attention as the building blocks of business. This thesis studies how digital platforms and the emerging platform economy change the role of strategic alliances as a source of competitive advantage. The subject is evaluated by examining how companies create competitive advantage in the platform economy. Besides, the possible challenges related to the utilization of digital platforms are considered.
This thesis is explorative and follows a qualitative research methodology. The philosophical stances are interpretivism and constructivism. The empirical evidence was gathered by conducting seven semi-structured interviews with business professionals, and the findings were gathered through thematic analysis.
The results indicate that digital platforms and platform economy change the role of strategic alliances as a source of competitive advantage in multiple ways. From an operational perspective, digital platforms enhance the efficiency, productivity, and flexibility of strategic alliances. As a result, they promote the formation of modern, agile alliances. From a strategic perspective, digital platforms lower the transaction cost of collaboration, support resource complementarity, and promote complementary innovation. Despite various benefits, however, it seems that digital platforms and platform economy are still emerging trends yet to be utilized in many companies.
Strategiset kumppanuudet ovat vuosikymmenten saatossa vakiinnuttaneet asemansa osana yritysten strategioita. Niiden avulla yrityksen on mahdollista saavuttaa sellaisia strategisia tavoitteita, joiden saavuttamiseen yrityksen omat resurssit ja kyvykkyydet eivät yksinään riitä. Strategiset kumppanuudet voivat toimia väylänä uusille markkinoille ja niiden avulla voidaan muun muassa kasvattaa liiketoimintaa sekä kehittää tuoteportfolioita. Kilpailuedun näkökulmasta katsottuna strategisten kumppanuuksien tehtävänä on auttaa yritystä tuottamaan kilpailijoitaan enemmän lisäarvoa asiakkailleen joko parantamalla kustannustehokkuutta tai mahdollistamalla ainutlaatuisten resurssiyhdistelmien hyödyntämisen.
Viimeisen vuosikymmenen aikana digitaaliset alustat ja kehittyvä alustatalous ovat alkaneet mullistaa perinteisiä liiketoimintamalleja ja tehnyt liiketoiminnasta yhä enemmän verkottunutta. Murroksen myötä yritykset ovat yhä enenevissä määrin linkittyneitä toisiinsa ja on alettu puhua alustaekosysteemien merkityksestä yritysten menestystekijänä. Tämän tutkielman tarkoituksena on selvittää, miten digitaaliset alustat ja kehittyvä alustatalous vaikuttaa strategisten kumppanuuksien rooliin kilpailuedun lähteenä. Päätutkimusongelmaa lähestytään selvittämällä miten yritykset luovat kilpailuetua alustataloudessa. Lisäksi tutkielmassa perehdytään mahdollisiin digitaalisten alustojen hyödyntämisen ongelmiin.
Tutkielma on luonteeltaan eksploratiivinen ja metodologialtaan laadullinen. Tieteenfilosofiselta suuntaukseltaan tutkimus noudattaa interpretivismin ja konstruktivismin paradigmoja. Tutkielman empiria perustuu seitsemään puolistrukturoituun asiantuntijahaastatteluun ja aineiston analyysi on tehty teemoittelemalla.
Tutkielmasta ilmenee, kuinka digitaaliset alustat ja alustatalous muuttavat strategisten kumppanuuksien roolia kilpailuedun lähteenä usealla tavalla. Operatiivisesta näkökulmasta katsottuna digitaaliset alustat parantavat kumppanuuksien tehokkuutta, tuottavuutta ja joustavuutta ja näin ollen mahdollistavat uudenlaisten ketterien kumppanuuksien muodostamisen. Strategisesta näkökulmasta katsottuna digitaaliset alustat mahdaltavat kumppanoitumisen transaktiokustannuksia ja tukevat komplementaaristen resurssien hyödyntämistä ja innovaatioiden kehittämistä. Mahdollisista hyödyistä huolimatta digitaalisten alustat ja alustatalous ovat kuitenkin kehitystrendejä, joiden potentiaali on hyödyntämättä vielä monissa yrityksissä.
Samankaltainen aineisto
Näytetään aineisto, joilla on samankaltaisia nimekkeitä, tekijöitä tai asiasanoja.
Waldmann, Martin

(

28.04.2020

)

Digital platforms with their distinct characteristics offer several competitive advantages compared to traditional business models. Digitalized products and services, a modular platform architecture, the possibility to ...

suljettu

Götz, Susanne

(

09.10.2019

)

The focus of the thesis is on online platforms providing digital services in the B2B context, because there is still little research available. Starting by defining basic terms, a concept matrix has been provided next, ...

suljettu

Pahta, Kerttu

(

29.04.2019

)

Digitalization has created vast amounts of new business activity, and the market of the 2010's is full of different kinds of digital services, platforms and social medias. In 2019 the digital market place is very different ...

suljettu