USING GENERATIVE ADVERSARIAL NETWORK AS A VALUE-AT-RISK ESTIMATOR
Leino, Akseli (2020-06-10)
---
USING GENERATIVE ADVERSARIAL NETWORK AS A VALUE-AT-RISK ESTIMATOR
(10.06.2020)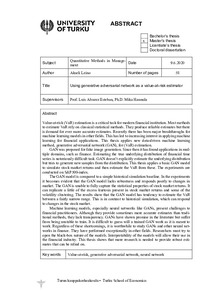 Julkaisu on tekijänoikeussäännösten alainen. Teosta voi lukea ja tulostaa henkilökohtaista käyttöä varten. Käyttö kaupallisiin tarkoituksiin on kielletty.

avoin
Julkaisun pysyvä osoite on:
https://urn.fi/URN:NBN:fi-fe2020062946231
Tiivistelmä
Value-at-risk (VaR) estimation is a critical task for modern financial institution. Most methods to estimate VaR rely on classical statistical methods. They produce reliable estimates but there is demand for ever more accurate estimates. Recently there has been major breakthroughs for machine learning models in other fields. This has led to increasing interest in applying machine learning for financial applications. This thesis applies new data-driven machine learning method, generative adversarial network (GAN), for (VaR) estimation. GAN was proposed for fake image generation. Since then it has found applications in multiple domains, such as finance. Estimating the true underlying distribution of financial time series is notoriously difficult task. GAN doesn't explicitly estimate the underlying distribution but tries to generate new samples from the distribution. This thesis applies a basic GAN model to simulate stock market returns and then estimate the VaR from these. The experiments are conducted on S&P500-index. The GAN model is compared to a simple historical simulation baseline. In the experiments it becomes evident that the GAN model lacks robustness and responds poorly to changes in market. The GAN is unable to fully capture the statistical properties of stock market returns. It can replicate a little of the excess kurtosis present in stock market returns and some of the volatility clustering. The results show that the GAN model has tendency to estimate the VaR between a fairly narrow range. This is in contrast to historical simulation, which can respond to changes in the stock market. Machine learning models, especially neural networks like GANs, present challenges to financial practitioners. Although they provide sometimes more accurate estimates than traditional methods, they lack transparency. GANs have shown promise in the literature but suffer from being unstable to train. It is difficult to guess will a trained GAN work as it is meant to work. Regardless of these shortcomings, it is worthwhile to study GANs and other neural networks in finance. They have performed exceptionally in other fields. Researchers must try to open the black-box nature of the models. Interpretability of the models will allow their use in the financial industry. This thesis shows that more research is needed to provide robust estimates that can be relied on.